A Riverside County couple was charged with scheming to falsely deport a relative's wife to the Philippines by having the man pose as a U.S. marshal.
A federal indictment unsealed Friday in San Diego accuses Gregory and Karen Denny of kidnapping, conspiracy and other crimes that carry a potential life sentence. The Hemet couple remained jailed without bail, and it wasn't immediately clear whether they had obtained an attorney.
Police said Denny, 37, barged into Cherriebelle Hibbard's Hemet home on Jan. 15 wearing a fake badge and a shirt that said "U.S. Marshal. Denny handcuffed the woman at gunpoint and forced her husband to buy her a plane ticket. He then used a fake badge to get through San Diego airport security and put her on a plane to the Philippines, her home country, according to a police report.
Hibbard remains in the Philippines, authorities said.
Craig Hibbard said he called the U.S. Marshals Service three days after the false deportation and officials there told him Denny wasn't an agent.
Police said in February that they arrested Denny after he came to the station for questioning wearing a fake badge and a replica pistol. Denny claimed he was a federal marshal but later admitted he impersonated a marshal and confirmed the family's account, Hemet Lt. Mark Richards said.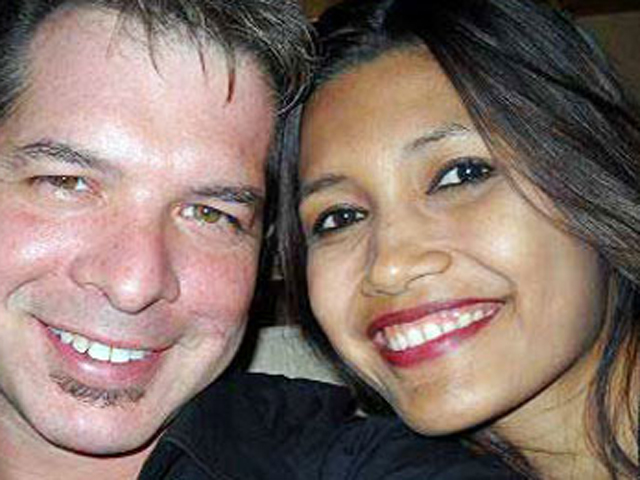 Denny told the Press-Enterprise newspaper Monday that the kidnapping claims were false, but he provided no further details.
Cherriebelle, who was four to five months pregnant at the time she left the country, wed Hibbard three years ago. She canceled her immigration documents and said she wanted to go home after the two fought last year, Craig said. His wife later renewed her green card and was waiting for it to be processed when Denny abducted her, Craig said. Immigration officials in San Bernardino told her she was allowed to stay in the United States in the meantime, he said.
Denny said Craig's father told him Cherriebelle was in the country illegally and the couple was having problems at home, the Press-Enterprise reported. Denny and Craig Hibbard are distant cousins, but Hibbard said they met only twice before.