100 % Precincts Reporting
Two bright lights in the local political sky discuss the controversial ballot measure.


To view this video you must to have Flash Player 9.0 or later installed. Click to download the most recent version of Flash.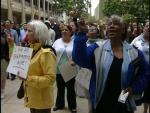 Eight days until the election, and San Diego voters appear to be split on whether to support...
Are town halls on deficit-plagued municipal budget smokescreen for Yes on D?
Will they save the city $3.5 million or $428 million over five years? A report by NBCSanDiego and the...
Mayor buys 2 weeks to rally added cost-cutting guarantees.