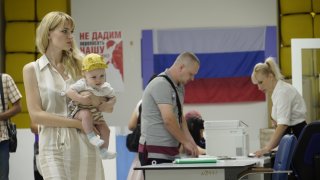 This is CNBC's live blog tracking developments on the war in Ukraine. See below for the latest updates. 
Referendum voting in Russian-occupied territories of Ukraine is underway, Russian state media has reported. Western and Ukrainian officials are rebuking them as a sham used by the Kremlin to legitimize Russian annexation of Ukrainian territory, as it did in Crimea in 2014. Moscow rejects the accusations.
Ukrainian President Volodymyr Zelenskyy is urging Russians to protest against the war. More than 1,300 people across Russia were arrested this week for demonstrating against Russian President Vladimir Putin's announcement Wednesday of "partial" military mobilization to send more troops into the war in Ukraine, which he calls a "special military operation."
Some security analysts, meanwhile, are sounding the alarm that Putin's threats of using nuclear weapons could risk escalation to a nuclear conflict.
12 vessels depart Ukraine carrying more than 205,000 metric tons of agricultural products
The organization overseeing the export of agricultural products from Ukraine said it has approved 12 vessels to leave the besieged country.
The Joint Coordination Center, an initiative of Ukraine, Russia, the United Nations and Turkey, said that the vessels are carrying a total of 205,912 metric tons of grain and other food products.
The ships are destined for Bangladesh, Romania, France, Bulgaria, Italy, Spain, Turkey and the Netherlands.
Read more about what Ukraine is exporting through the Black Sea Grain Initiative and where it is going.
— Amanda Macias
Putin's mobilization of 300,000 more troops unlikely to resolve basic problems in Ukraine, experts say
The main challenge the Russian military faces after almost seven months at war looks likely to remain a basic one: manpower. 
The "partial mobilization" President Vladimir Putin rolled out Wednesday aims to add an additional 300,000 reservists to the front, according to Defense Minister Sergey Shoigu, primarily those with some kind of military experience.
"Realistically, most of these guys haven't been through recent training, and a 300,000 input is incredibly high," he said. "Most Russian soldiers receive most of their training in the units now, but it's hard to imagine the units that are in Ukraine being in any state to train recruits."
Ukraine had nearly 200,000 active duty soldiers at the start of the war, according to the International Institute for Strategic Studies, a British research institute in London. Kyiv bolstered that number with new recruits and volunteers that are trained in Ukraine and in partner countries, such as Poland and the United Kingdom.
Russia had about 1 million active personnel at the start, according to the institute's estimates, though it did not dedicate all its troops to Ukraine. 
Forcing dissidents and unwilling Russians into the military would likely exacerbate what are widely believed to be deep problems with morale within the rank and file.
Read the full story on NBC News.
— NBC NEWS
White House prepared to impose additional sanctions on Russia following 'sham referendum'
The Biden administration said it was prepared to impose additional sanctions on Russia following a referendum held in parts of UKraine.
On Wednesday, Russian President Vladimir Putin voiced his support for a referendum to decide if four occupied regions of Ukraine should join Russia. The move is believed to be a Kremlin attempt to annex additional swaths of its ex-Soviet neighbor.
"We are prepared to impose additional swift and severe economic costs on Russia along with our allies and partners in response to these actions if they move forward with annexation" White House press secretary Karine Jean-Pierre said during a daily news briefing.
"We have sent a loud message and our allies have as well about this illegitimate vote," she said, adding that the U.S. and its allies will never recognize land Russia annexes from Ukraine.
— Amanda Macias
U.N. commission says Russian troops committed war crimes
A team of experts tasked by the U.N. said in a new report that Russian troops committed war crimes in Ukraine.
The Independent Commission of Inquiry, which was set up by the U.N. to probe the conduct of the ongoing war, published grisly findings after visiting nearly 30 cities in four Ukrainian regions.
"We have inspected sites of destruction, graves, places of detention and torture, as well as weapon remnants and consulted a large number of documents and reports," said commission Chairman Erik Mose told the U.N. Human Rights Council.
"Based on the evidence gathered by the commission, it has concluded that war crimes have been committed in Ukraine," he added.
Mose said that the commission documented several cases in which "children have been raped, tortured, and unlawfully confined."
He added that many bodies showed visible signs of torture before execution, including bound hands, wounds to the head and slit throats."
The Kremlin has previously denied that its troops have committed war crimes.
— Amanda Macias
More than 400 bodies exhumed from mass burial site in Izium with many of them showing signs of violent death, Ukrainian official says
A Ukrainian official overseeing the Kharkiv region said that 436 bodies were exhumed from a mass burial site in Izium.
"Most of them have signs of violent death and 30 have traces of torture," Oleh Synehubov, head of the regional military administration in Kharkiv wrote in an update on the Telegram messaging app.
"There are bodies with ropes around their necks, with bound hands, with broken limbs and gunshot wounds. Several men have amputated genitalia. All this is evidence of the terrible tortures that the occupiers subjected the residents of Izium to," Synehubov added.
He said that most of the bodies that were recovered were civilians and at least 21 were part of the Ukrainian armed forces. Synehubov said that a team of 200 people, including forensic experts and investigators helped exhume the bodies.
— Amanda Macias
More than 191 vessels carrying grain and other crops have left Ukrainian ports
The organization overseeing the export of agricultural products from Ukraine said that so far 191 vessels have left the besieged country since ports reopened.
The Joint Coordination Center, an initiative of Ukraine, Russia, the United Nations and Turkey, said the ships transported a total of 4.35 million metric tons of grain and other food products.
In July, three of Ukraine's ports were reopened to exports under the U.N.-backed Black Sea Grain Initiative.
— Amanda Macias
Three NATO allies still have to approve Sweden and Finland's entry into the alliance
Three NATO member countries have yet to sign ratification protocols for Finland and Sweden to join the military alliance.
Out of NATO's 30 member countries, Hungary, Slovakia and Turkey are the last holdouts to grant Sweden and Finland membership.
In May, both nations began the formal process of applying to NATO as Russia's war in Ukraine raged. All 30 members of the alliance have to ratify the countries' entry into the group.
Last month, U.S. President Joe Biden signed ratification documents following a 95-1 Senate vote to bring Finland and Sweden into NATO.
— Amanda Macias
Senior Chinese diplomat presses Ukraine foreign minister for 'peaceful settlement'
Senior Chinese diplomat Wang Yi told Ukraine Foreign Minister Dmytro Kuleba that all efforts conducive to peaceful settlement of the Ukraine crisis must be supported, state media reported on Friday.

"Sovereignty and territorial integrity of all countries must be respected," he said on the sidelines of the U.N. General Assembly, adding that China always stands on the side of peace.

Both diplomats last spoke to each other on a call in April. 
— Reuters
World's largest yacht with ties to Russian oligarch is relocated to dock in Germany by authorities
The world's largest superyacht with ties to Russian billionaire and business tycoon Alisher Usmanov was pulled into a dock in Bremen, Germany.
The stunning superyacht was initially restricted from leaving its anchorage by German authorities on March 3. Usmanov entered the crosshairs of the U.S. and its allies following coordinated global sanctions on Russian elites with Kremlin ties after Russia invaded Ukraine on Feb. 24.
The yacht, named Dilbar after Usmanov's mother, extends over 500 feet and is equipped with two helipads and the largest indoor swimming pool ever installed on a private vessel. The Department of Treasury estimates that the current value of Usmanov's yacht is approximately $735 million.
— Amanda Macias
436 bodies exhumed from mass grave; 30 show signs of torture, Ukraine says
Ukrainian officials reported that 436 bodies have been exhumed from a mass grave in the eastern city of Izium, 30 of which show visible signs of torture.
The site was found shortly after Ukrainian forces recaptured the territory, which had been under occupation by Russian forces for roughly six months.
Three additional mass burial sites have been found in areas reclaimed during the Ukrainian forces' rapid counteroffensive in the northeastern Kharkiv region, the region's governor Oleh Synyehubov and its police chief Volodymyr Tymoshko told reporters.
Numerous mass graves were uncovered earlier this year by Ukrainian authorities around cities and towns that had been occupied by Russian troops. Moscow rejects accusations of its forces being behind the deaths.
— Natasha Turak
Long lines are building at Russia's borders as many try to flee mobilization call
Long lines of cars are building up at Russia's borders with its neighbors, numerous news agencies have reported, as many Russians try to leave the country following President Vladimir Putin's call on Wednesday for "partial" mobilization to fight in Ukraine.
Some men have waited as long as 24 hours, as governments in European countries debate whether to allow the fleeing Russians into their countries.
"I have been waiting in my car since Thursday afternoon," one man at the Russian-Georgian border was cited by The Guardian as saying. "Everyone is worried that the border will be closed by the time we get anywhere close to it," he said.
Videos posted to social media show some men using bicycles and scooters to cut through the standstill traffic. By Thursday, more than 1,300 people had been arrested in Russia for protesting Putin's mobilization order.
— Natasha Turak
Putin backs himself further into a Ukrainian corner after threats of nuclear warfare, experts say
Russian President Vladimir Putin's renewed nuclear threats have raised fears that his plans for escalation in Ukraine may not be limited to mobilizing more troops.
While he has issued apocalyptic threats against the West before, Putin's thinly veiled warnings in a rare national address Wednesday signaled that he was willing to raise the risk of nuclear conflict to avoid an embarrassing military defeat.
Whether Kyiv and its allies should now be more concerned about the threat was up for debate, analysts said.
Read the full story from NBC News.
— NBC NEWS
UN records nearly 6,000 killed in Ukraine since start of war, but full death toll likely higher
The United Nations has confirmed 5,916 civilian deaths and 8,616 injuries in Ukraine since Russia invaded its ex-Soviet neighbor on Feb. 24.
The Office of the U.N. High Commissioner for Human Rights said the death toll in Ukraine is likely higher, because the armed conflict can delay fatality reports.
The international organization said most of the civilian casualties recorded were caused by the use of explosive weapons with a wide impact area, including shelling from heavy artillery and multiple launch rocket systems, as well as missiles and airstrikes.
— Amanda Macias
China 'reaffirms respect for Ukraine's territorial integrity,' Ukraine's Kuleba says
China has expressed its respect for the integrity of Ukraine's land, Ukrainian Foreign Minister Dmitry Kuleba wrote on Twitter after meeting with Chinese Foreign Minister Wang Yi during the UN General Assembly in New York.
"I met with State Councilor and Foreign Minister Wang Yi to discuss relations between Ukraine and China. My counterpart reaffirmed China's respect for Ukraine's sovereignty and territorial integrity, as well as its rejection of the use of force as a means of resolving differences," Kuleba wrote.
Chinese media cited Wang as saying that all efforts toward a peaceful solution to the conflict in Ukraine must be supported. China's position toward the war has been described by analysts as a careful balancing act, never reneging on its alliance with Russia while also expressing its opposition to conflict in Ukraine.
— Natasha Turak
Russian forces have forcibly deported as many as 1.6 million Ukrainians, U.S. official says
Russian forces have forcibly deported between 900,000 and 1.6 million Ukrainians into Russia, the U.S. ambassador to the U.N. Human Rights Council said.
"Numerous sources indicate that Russian authorities have interrogated, detained and forcible deported between 900,000 and 1.6 million Ukrainian citizens," Michele Taylor told the U.N. Council, urging its members to investigate "the growing evidence of Russia's filtration operations, forced deportations and disappearances."
Ukraine and Western governments have accused Russian forces of forcibly moving Ukrainian nationals to "filtration camps" and then transporting them to Russia. Moscow has rejected the accusations, calling them "fantasy."
The forced deportation of civilians from one country to another is considered by the U.N. and the International Committee of the Red Cross to be a war crime.
— Natasha Turak
Ukrainian mayor urges residents in Russian-occupied areas not to cooperate with referendums
The Ukrainian-elected mayor of the city of Melitopol is urging those in Russian-occupied areas of the country not to partake in the so-called "referendums" being held by Russian authorities.
"We call on the residents of the occupied territories not to participate in the pseudo-referendum in any way," Ivan Fedorov wrote via Telegram.
"Participation in it is to support the bloody plan to escalate the war against Ukraine, to voluntarily become part of a closed totalitarian society, to assume part of the responsibility for war crimes, to agree to the mobilization of men aged 16-55 to replenish the cannon fodder of the Russian Army, to commit a criminal offense."
"Don't open the door to agitators. Do not go to the polling stations. Completely ignore the entire election process. Stay as far as possible from Russian military and enemy equipment. Our heroic armed forces of Ukraine will definitely liberate all occupied territories from racism," Federov said, adding, "most importantly, participation in a pseudo-referendum is the worst betrayal."
— Natasha Turak
Voting begins on referendums in Russian-occupied Ukrainian territories
Voting is starting on referendums in Russian-occupied areas, Russian state media reported.
"Voting began at 08:00 in the DPR and LPR, as well as in the Kherson region and in the liberated territories of the Zaporozhye region," state news agency Tass said.
Western and Ukrainian officials have slammed the "referendums" as a sham. Many fear that Russia will rig the votes in its favor and then use the result as justification to annex those territories as Russian and subsequently use nuclear or other unconventional weapons against Ukrainian forces trying to reclaim them.
— Natasha Turak
Putin's nuclear ultimatum to the West raises the risk of disaster
Russian President Vladimir Putin's nuclear threats to the West increase the risk of a nuclear conflict, analysts and campaigners warned.
It comes shortly after Putin called up extra forces for the war in Ukraine and warned that if the territorial integrity of Russia is threatened, the Kremlin would "certainly use all the means at our disposal to protect Russia and our people. It is not a bluff."
Beatrice Fihn, Nobel laureate and executive director of the International Campaign to Abolish Nuclear Weapons, told CNBC that Putin's "incredibly dangerous and irresponsible" threats drastically increase the risk of escalation to a nuclear conflict.
— Sam Meredith
Zelenskyy urges Russians to protest Putin's mobilization order
Ukrainian President Voldomyr Zelenskyy urged Russians to protest President Vladimir Putin's announcement that he would mobilize 300,000 Russian troops for war.
"I'll explain what is happening to the Russians in Russian," Zelenskyy said, speaking Russian in a nightly address on the Telegram messaging app.
"55,000 Russian soldiers died in this war in six months. Tens of thousands are wounded and maimed. Want more? No? Then protest. Fight back. Run away. Or surrender to the Ukrainian forces. These are the options for you to survive," he added.
Zelenskyy said that Russia's mobilization of additional troops, the first since World War II, is proof that the Kremlin's mighty military has faced stiff resistance from Ukrainian forces.
"The Russian leadership is reacting precisely to the fact of Ukrainian strength in changing its tactics and trying to draw even more Russian citizens and resources into the war," he said.
— Amanda Macias
Russian foreign minister leaves U.N. Security Council meeting on Ukraine early
Russian Foreign Minister Sergey Lavrov left a United Nations Security Council meeting early after he defended his country's war in Ukraine.
Lavrov, who arrived late to the meeting and missed remarks by U.S. Secretary of State Antony Blinken and other U.S. allies, accused Kyiv of openly threatening Russia's security.
"Over the past few years, the Kyiv regime has conducted a frontal assault on the Russian language. It brazenly trampled on the rights of Russian and Russian-speaking people in Ukraine," Lavrov said.
"Everything I've said today simply confirms that the decision to conduct the special military operation was inevitable," he added, using the Kremlin's term for its invasion.
Once he was done speaking, he left the U.N. chamber and his deputy Sergey Vershinin remained in position.
— Amanda Macias
Read CNBC's previous live coverage here:
Ukraine welcomes home 'heroes' after prisoner swap; Russian mobilization sparks anti-war protests
Copyright CNBC