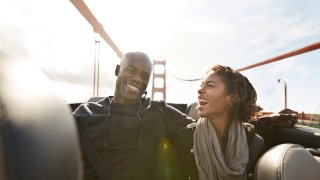 There is an avalanche of information on dating red flags — what they are, how to spot them. But it's just as important to notice green flags if you're deciding whether you and a potential partner should get more serious. 
"A relationship or dating green flag is an indicator that the relationship is worth continuing to explore," says Jessica Small, a marriage counselor and therapist at Growing Self Counseling & Coaching in Denver. 
Here are four relationship green flags, according to Small. 
1. Clear and consistent communication
It's all about follow-through. Does the person call or text when they say they will?
"You do not want to constantly be trying to decode what someone is saying or questioning if they are going to be in touch when they say they will," she says. 
2. Appropriate sharing
This one is "tricky," Small says, because appropriate sharing can very quickly become oversharing, which is a red flag. 
"When a person is able to share enough information about themselves that you feel like you're getting to know them and understand them over time, but you're still curious to know more, that is a good sign," she says. 
Say, they mention their ex. This in itself is not a bad thing, Small says. But talk about one's ex should not dominate the conversation. 
The same goes for how much you share about your past relationships. 
"If a potential partner asks what happened in your last relationship on date one, you might say, 'We grew apart,'" she says. "On date two if the topic comes back up, you might add a few more pieces of information but still keep it simple." 
Extrapolate this to other, deeper topics, she adds. 
"The beginning of a relationship is about building trust and figuring out if this person deserves to know the ins and outs of your life," she says. 
3. Shared values and interests
If the dates are fun, it is easy to overlook some of the more crucial aspects that make a long-term relationship work.
"Having an overlap in interests or in belief systems is an important part of a successful relationship," Small says. 
When you both are ready to dig into these topics, be honest and note how much you two do, or don't, align. 
4. Respect for boundaries
"A green flag is when a potential partner is considerate and aware of your boundaries, asks for clarification on them when they are unclear, and does not push them," she says.
Let's say you ask to meet at a bar or the park on the first date and have expressed that you're more comfortable meeting in public places. On the second date, what are they suggesting? 
If it's a restaurant or a museum, that's great. If they keep pushing for you to come over or vice versa, that's a sign they might not respect your boundaries. 
DON'T MISS: Want to be smarter and more successful with your money, work & life? Sign up for our new newsletter!
Get CNBC's free Warren Buffett Guide to Investing, which distills the billionaire's No. 1 best piece of advice for regular investors, do's and don'ts, and three key investing principles into a clear and simple guidebook.
Copyright CNBCs - CNBC