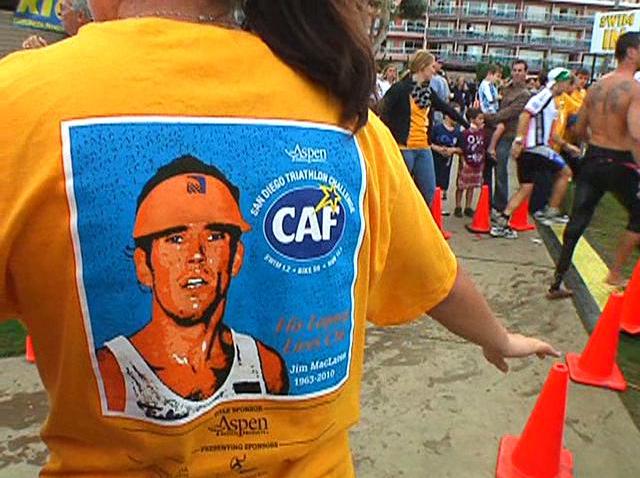 The name Jim MacLaren doesn't jump off billboards or newspaper headlines. It isn't universally known or even well known in most circles.
But, ask a random athlete competing at the Challenged Athletes Foundation event that takes over La Jolla Cove once a year and you'll get a smile followed by many words of gratitude.
The 17th annual San Diego Triathlon Challenge was held Saturday in La Jolla with more than 700 athletes taking part. They are people who've overcome enormous obstacles to run, swim, and bike their way towards the finish line. Some have missing limbs, others are partially paralyzed, but they all have one thing in common. They're refusing to let their physical challenges keep them on the sidelines.
The Triathlon Challenge is a race, but also a fundraiser working towards CAF's mission of keeping people with physical challenges in sports. Money raised goes to buy prosthetic limbs, wheel chairs, and other equipment that ultimately does keep these athletes in the game.
The first Challenge was held in this same spirit for a man who was involved in car accident and became a quadriplegic. A group of triathletes held the fundraiser to raise money for their friend so that he could compete again. His name was Jim MacLaren and he died in August. This year's challenge was dedicated to him.
"He ultimately started it, incredible what that name has done over the years" said Mike Johnson a cyclist who lost a limb while serving in the Navy overseas.
"He broke barriers" said Virginia Tinley, Challenged Athletes Foundation director.
MacLaren's face was on every volunteer T-shirt at Saturday's event as part of a tribute to the man who blazed the trail for the more than 5,000 challenged athletes who have carried on his story of inspiration.