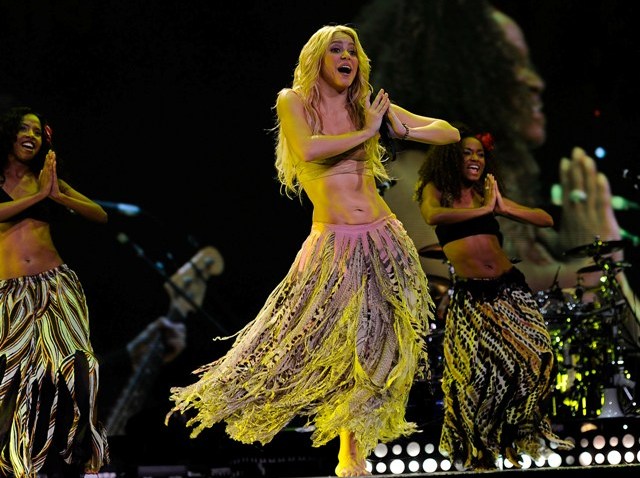 You might not believe me when I tell you there was a time in my life when all I really listened to was Shakira. I was in college and found myself crashing on campus with a couple friends to save myself the 26-mile commute back to Chula Vista. The international college had just a small percentage of domestic students, and being on the soccer team meant I spent a lot of time with students from Spain, Mexico, Chile, Argentina and other Spanish-speaking countries, so I listened to a lot of rock en espanol, and Pies Descalzos was on heavy rotation. As Shakira has fully crossed over and performs mostly in English these days, I'm less a fan of her music, but if you've never seen her live, she's an amazing performer and is worth seeing at least once.
If Shakira's not your thing, there are plenty of other options in town tonight, including Jonsi of Sigur Ros at 4th & B, Hyena's vinyl release party at the Casbah, Alice In Chains at SDSU, or the Heavy Guilt at Winston's, just to name a few.
Friday, Oct.15:
Shakira @ San Diego Sports Arena
Jonsi, Mountain Man @ 4th & B
Hyena (vinyl release), Music for Animals, Illuminauts, DJ Andrew Decade @ Casbah
CMJ/NYC Going Away Party with Tape Deck Mountain, Mi Ami, Kenseth Thibideau @ Tin Can
Bushwalla, Dawn Mitschele, Jessica Bell @ Mueller College (4607 Park Blvd., San Diego)
Grand Opening Weekend, featuring Jon Cougar Concentration Camp, the Bugs, D.P.I., Nihilist @ The Shakedown
PS I Love You, Shadow Shadow Shade @ Soda Bar
"The Guilty Party," featuring the Heavy Guilt, Centerlight Pop, Podunk Nowhere @ Winston's
Alice In Chains- BlackDiamondSkye, Deftones, Mastodon @ Viejas Arena, SDSU
Shawn Colvin, Whitney Steele @ Anthology (early show, 7 p.m.)
K-OS, Shad, Astronautalis, DJ Boomstyer @ Belly Up
The Styletones @ Bar Pink
Batusis, Rocket from the Tomb @ Hensley's Flying Elephant
Bill Cardinal and the Canyon Band @ Ould Sod
Mrs. Magician, DJ Rob Moran @ Whistle Stop
Irritones, Neon Maniacs, Stalins of Sound @ Tower Bar
SO3, 321 Stereo, So Long Davey!, In Cadence @ Ruby Room
Schitzophonics, Dead Animal Mod @ Eleven
Hot Coffee, Liveagain, Metal Fury @ O'Connell's
Fruit of the Soul benefit for Monarch School, featuring Bushwalla, Mark Boyce Jam Session, Miss Erika Davies, Monarch School Steel Drum Band @ Specialty Produce Warehouse (1929 Hancock, San Diego)
Split Finger, Superunloader, Good Intentions @ Sound Wave
The Gregory Page Show @ Lestat's
Pau Hana, Bateke Beat @ 710 Beach Club
Letlive, the Siren Sunrise, Ships and Sailing, Globe and Beast @ Epicentre
All That Remains, Asking Alexandria, Unearth, And She Whispered, Adestria @ Soma
Ras McCall, the High E's, Delta Nine, Random Radio, Perry Lee Witt @ Dreamstreet
Temple of the Dads @ Humphreys Backstage Lounge (5-7p.m.)
Detroit Underground @ Humphrey's Backstage Lounge (9:30 p.m.)
Stephanie Trick, Sue Palmer, Chris Conz @ Dizzy's (San Diego Wine and Culinary Center)
Rod Piazza and the Mighty Flyers @ Anthology (late show, 9:30 p.m.)
TRC Soundsystems @ Portugalia
Lexington Field, DJ R2 @ Portugalia
Funkagenda, Crowdkillers @ Voyeur
Saul Q & Kid Wonder @ El Dorado
Devin Townsend Project, Wither , TesseracT @ Ramona Mainstage
Stricktly Social presents Sy Smith, Mark de Clive-Lowe, DJs Ala and Destroyer @ Kava Lounge
Hilltop Ramblers @ The Marble Room
Moonshake, featuring Mark E Quark @ Kadan
Scream Music Experience, featuring Joe Dirt, Turbo Teen, DJ Artistic, Jon Bishop, Poogie Master, Ghost M.D. @ WorldBeat Center
Beatnick and Mr Mention @ The Office
The Gaslamp Comedy Show hosted by Mal Hall, featuring Patrick Deguire, Grant Cotter @ The Tipsy Crow
Las Vegas Dueling Pianists @ Donovan's Circle of Fifths
Thrust (industrial/fetish), featuring DJs Bryan Pollard, Necrotica, A Boy Named Art @ Pure Platinum Back Door (400 Kearny Mesa Road, San Diego)
Rosemary Bystrak writes about the San Diego music scene, events, and sometimes whatever creeps into her head on her music blog San Diego: Dialed In. Check it for even more listings. Follow her updates at twitter.com/sddialedin or submit your music listings.