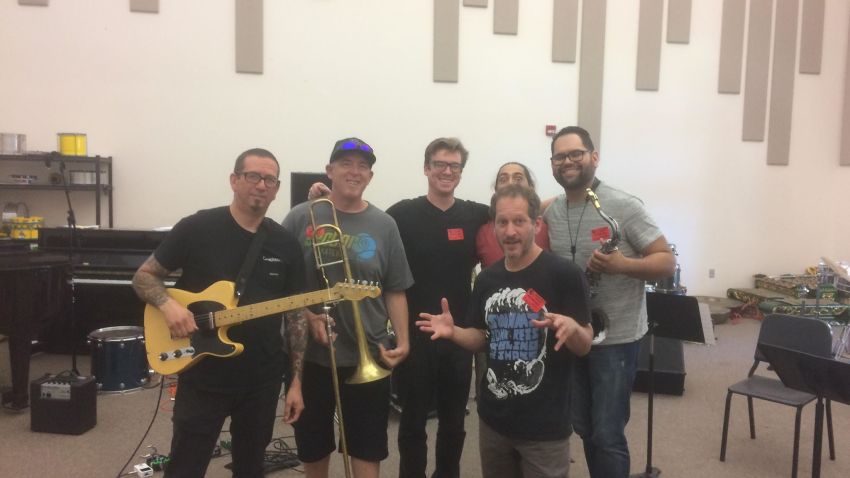 Let's talk about jazz for a second, shall we? San Diego has a vibrant jazz scene, but sometimes we're so indie we miss it. If you ever hear musicians lamenting the underrepresentation of acts at the San Diego Music Awards, often it's a jazz cat who took years of study to get to their skill level. Enter Applebrown Jazz Ensemble. Fronted by saxophonist Gabriel Sundy, the ensemble hasn't played together in nearly three years, as he's been traveling the world on contract gigs. When he is in town, you can find him at Thursday night jazz jams at the Ken Club, Panama 66, or guest performing in any number of other acts -- jazz, rock, indie, you name it -- around town. Tonight, they perform at the Whistle Stop and they'd love to know that this town still cares about jazz. Elsewhere, Built to Spill and Afghan Whigs pull a co-headline show at the Observatory North Park, country singer Brent Cobb plays the Casbah before embarking on a massive tour supporting Chris Stapleton, and pop singer and actress Katelyn Tarver plays Soda Bar.

Wednesday, May 9:
Built to Spill, Afghan Whigs, Ed Harcourt @ The Observatory North Park
Brent Cobb and Them, Savannah Conley @ Casbah
The Applebrown Jazz Ensemble, Fistfights with Wolves @ Whistle Stop
Katelyn Tarver, Ezla @ Soda Bar
Sameland, Mobilities, Roman Watchdogs @ The Merrow
1,2,3 It's Wednesday with DJ EdROC @ The Office
Taimane Gardner, Jimmy and Enrique, Reiko Obata @ Belly Up
Shock! New Wave with DJ Old Man Johnson @ Bar Pink
GoGo Penguin @ The Loft, UCSD
War Fever, Fishing for Chips, Month a Sundays @ Navajo Live
Paul Gregg (Red Fox pianist) @ Sycamore Den
Gilbert Castellanos Young Lions Series & Jazz Jam @ Panama 66
Dance Klassique with Joe Pea, Ryan Bauer, Gomez @ Blonde
Open Mic Night @ Pour House (8 p.m.)
That's Right @ Pour House (5 p.m.)
Layne Tadesse, 7 Seal Dub Band, DJ Carlos Culture @ Winston's
Mary Bridget Davies in "Blues Diva," featuring Ryan Sudick @ Martini's Above Fourth
Fashion Jackson, Common Ivy, Chill Nickleson @ Space
Open Mic @ Midnight Jack
Open Mic with Jefferson Jay @ Winston's (6-9 p.m.)
Bayou Brothers @ Humphreys Backstage Live
The Weepies, Sweet Talk Radio @ Music Box
Touchy Feely with Mike Delgado and Friends @ El Dorado
Open Mic/Open Jam @ 710 Beach Club
Rosemary Bystrak is the publicist for the Casbah and writes about the San Diego music scene, events and general musings about life in San Diego on San Diego: Dialed In. Follow her updates on Twitter or contact her directly.