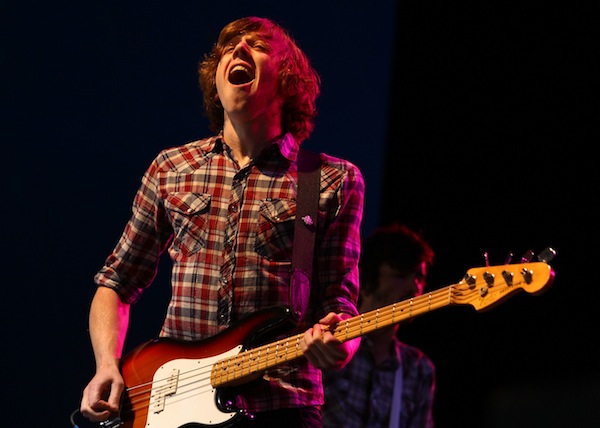 If you thought this week was busy, you don't even want to look at this weekend! I mean even the Beach Boys are playing in town, for goodness sake! Seriously, there are some incredible shows tonight, including our friends Prayers playing for the first time at the Observatory; a record re-release party (because once isn't enough) with the Muffs at Casbah; and the Gore Horsemen at Soda Bar (word on the street is that tonight's performance is their final show). On top of that, Philip Phillips plays the Fair with Matt Nathanson, Oysterfest has day one fun at the Embarcadero, and our friends from south of the border, Bostich + Fussible, play a tiny show at Kava Lounge. Still, of all those options, a double bill with Tokyo Police Club and We Were Promised Jetpacks at the Belly Up is rare and going to be super awesome. Just be sure to save some for tomorrow.
Friday, June 17:
Tokyo Police Club, We Were Promised Jetpacks @ Belly Up
Acid Varsity 2 Year Anniversary with Bostich + Fussible @ Kava Lounge
Prayers, Tijuana Panthers, Marujah @ The Observatory North Park
The Muffs Record Re-Release Party, Claw Hammer, the Schizophonics, the Touchies @ Casbah
Oysterfest @ Embarcadero
Phillip Phillips & Matt Nathanson @ San Diego County Fair
The Gore Horseman, the Strikers, Hard Fall Hearts @ Soda Bar
San Diego Startup Week Startup Festival with Broken Stems, Creepxotica, DJ Yeddey @ Quartyard (5-11 p.m.)
Mainly Mozart Festival: Ethan Bortnick @ Balboa Theatre
The Beach Boys @ Pala Starlight Theater, Pala Starlight Casino
The Lyrical Groove @ Bar Pink
Oysterfest Afterparty with Boombox and Rob Garza of Thievery Corporation @ Music Box (11 p.m.)
The Fabulous Pelicans Happy Hour - Carlsbad High School Baseball Program Fundraiser @ Belly Up (Happy Hour 5 p.m.)
Peggy Watson and David Beldock @ Templar's Hall in Old Poway Park
Short Stories, Hidden Hospitals, Culprit, Alive & Well @ Brick By Brick
Fistfights With Wolves (EP Release), Roland (ex-Sleeping People), Shades McCool @ The Hideout
DJ Le Silence de LaRue @ Whistle Stop (5-8 p.m.)
'80s vs. '90s with DJs Gabe & Saul Q @ Whistle Stop
Tierra/Malo @ Sycuan
Midnight Track, Fighting Friction, Junkyard Pharaohs, Steal Away, Color Til Monday, Spicy Camaro @ SOMA
The Fire Brothers @ Lestat's
Sara Petite, Jacques Mees, Dave Humphries @ Java Joe's
Kelly McGarry Presents @ House of Blues
Tiny Moving Parts, Prawn, Free Throw, the Wild Fires @ Voodoo Room, House of Blues
The Benedetti Trio fetes Paul McCartney @ Dizzy's
Nurvana, Punkture, the Lone Pines @ The Merrow
The Chromedomes @ The Bancroft
Acoustic Happy Hour: Casey Turner @ 710 Beach Club (5-8 p.m.)
Pasadena, Sandollar, No Kings @ 710 Beach Club
Rhythm Future Quartet @ AMSD
Funk's Most Wanted @ Tio Leo's
Royal Academy of Performing Arts "A Brand New Day" @ California Center for the Arts, Escondido
Sister Speak @ Humphreys Backstage Live (5 p.m.)
Detroit Underground @ Humphreys Backstage Live (9 p.m.)
Nebula Drag, R3x @ Tower Bar
OB Comedy @ Winston's (6 p.m.)
The Devastators @ Winston's (9:30 p.m.)
Flight 42, Boner City @ Til-Two Club
Kyle Flesch @ Fluxx
Another Damn 90s Night with Cros One @ El Dorado
Louis Futon @ Bang Bang
DJ Ruckus @ Omnia
DJ Karma @ Parq
Club Musae @ Boar Cross'n
Carolyn Wonderland @ Ramona Mainstage
The Dangle Zone X Bass Tribe Present: Ott @ Spin
Rosemary Bystrak is the publicist for the Casbah, the content manager for DoSD, and writes about the San Diego music scene, events and general musings about life in San Diego on San Diego: Dialed In. Follow her updates on Twitter or contact her directly.