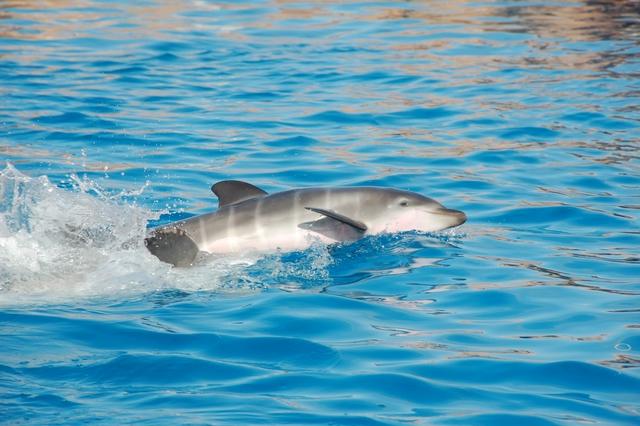 Fifty birds flying through the audience. Two pilot whales. Sixteen dolphins. Circus de Soleil-esque performers bungee-jumping from the sky. What more could you ask for?
A fresh, high energy dolphin show at Sea World San Diego opens May 29. The previous dolphin show ran in San Diego for 13 years, but show directors say it was time for a change.
"Guests really loved that show, but obviously after 13 years, you have to start saying, 'Ok, well what else is there? What else can we do?'" says Director Rick Schuiteman.
Trainers and dolphins have been dazzling audiences in Orlando with the theatric "Blue Horizons" since 2005, Schuiteman said. With a few tweaks and changes, trainers in San Diego have made it their own.
The show may be au courant, but the story behind it is a familiar one. A young girl named Marina gazes out her window fascinated by dolphins jumping in and out of the ocean in the blue horizon. She longs to be a part of that world. One day, a dolphin appears at her window beckoning her to the ocean. She discovers she can fly with the birds and swim with the dolphins.
"This is a show that only Sea World can deliver," Schuiteman said.
With elaborate costumes, daring stunts and original music by the Seattle Symphony Orchestra, it's designed to draw in crowds and boost ticket sales during the summer season.