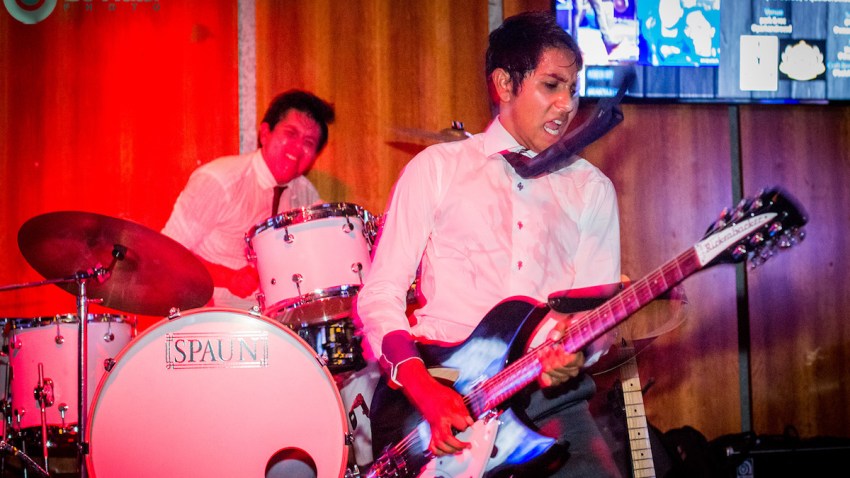 We all need a bit of catharsis and healing right now, don't we? That's why, if you've got an open day, head up to Che Cafe for Bands Against Bigotry. This is an all-day event with over a dozen of your favorite local acts, with proceeds going to the Dignified Learning Project, which seeks social justice and equality in education through outreach with students and teacher training. You know we love the Bassics, Bad Kids, Low Volts and Boychick around here, but there are a lot of new names and sounds to get to know, too -- all while supporting a good cause. By nightfall, Sugar Candy Mountain play Soda Bar, Art Unites hosts another event at the
Casbah
and Soja returns to headline the Observatory.
Sunday, Nov. 11:
Bands Against Bigotry with the Bassics, Meadow, Nowherland, Bad Kids, Low Volts, Dream Burglar, Boychick, Hiroshima Mockingbirds, Babydoll Warriors, Los Pinche Pinches, Band Argument, Geese, Blacks Beach Boys, Saline Solutions @ Che Cafe Collective (1 p.m.)
Sugar Candy Mountain, the Gift Machine @ Soda Bar
Art Unites: Nite Lapse, Digital Lizards of Doom, 10-19, Of Ennui @ Casbah
Soja Poetry in Motion Tour with Twiddle, Xiuhtezcatl @ Observatory North Park
NF: Perception Tour @ Cal Coast Credit Union Open Air Theatre, SDSU
Night Terrors, the Tissues, the Gay Agenda, Situations, Skrapez @ Space
The Moves @ Panama 66
HappyRon and Friends @ La Mesa Spacebar (6:30 p.m.)
Art Form Swap Meet 5 @ Space (4 p.m.)
The Chairman and the Board: Ultimate Rat Pack Tribute Direct From Las Vegas @ Belly Up
3OH3 & Emo Nite: the Want House Party Tour, Lil Aaron @ House of Blues
Celebrating Joni with Robin Adler, Dave Blackburn, Barnaby Finch @ Dizzy's
A-Mac & the Height @ The Kraken
Dream Night with DJs Mario Orduno @ Whistle Stop
Ricky Giordano and Friends @ The Backdrop (formerly Java Joe's)
Katie Kuffel, Nephews and a Niece @ Bar Pink (8 p.m.)
Rat Sabbath with DJ Ratty @ Bar Pink (10 p.m.)
Megan Slankard, Alex Wong, King Taylor Project @ Lestat's
The Gravitys @ Bancroft Bar
Tribute to Veterans Concert @ California Center for the Arts, Escondido
Keep It on the DL @ Martini's Above Fourth
Dream Haze, Dearheart, Nights Like Thieves @ Tower Bar
Pickin' Pear @ Winston's (2 p.m.)
Highline Trail @ Winston's (6 p.m.)
In Concert Variety Show @ The Merrow
Lead Pony, the Loons, North by North, the Whiskey Circle @ Blonde
The Night Howls @ Pour House
Noisem, Blame God, Manic, Benoit @ Brick by Brick
Salsa Sundays @ Queen Bee's (all ages)
Reggae Sunday featuring Cityside, the Gentle Giants, DJ Non Profit @ U-31
Uptown Top Ranking @ The Office
Underworld Gothic Industrial @ Navajo Live
Major Interval @ Humphreys Backstage Live (7 p.m.)
Reggae Sunday @ Spin
Rosemary Bystrak is the publicist for the Casbah and writes about the San Diego music scene, events and general musings about life in San Diego on San Diego: Dialed In. Follow her updates on Twitter or contact her directly.