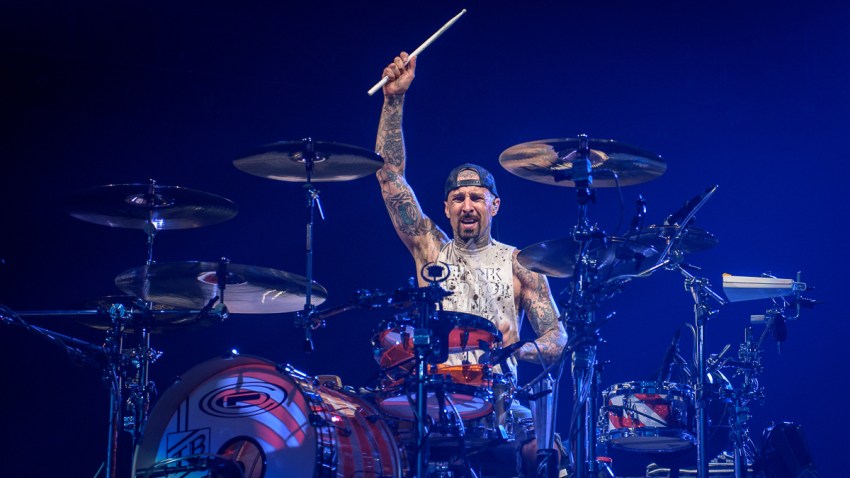 It hasn't been the best of years for famous Blink-182 drummer Travis Barker. In June, the pop-punk superstars -- originally from our own backyard -- were forced to cancel their Las Vegas residency dates because of blood clots that Barker had developed in both of his arms.
Unfortunately, the issue hasn't subsided. In an Instagram post on Sept. 6, the band announced, "It is with a heavy heart to report that blink must cancel its fall mini tour which was set to kick off September 12th on their way to headline Riot Fest in Chicago [sic]."
Blink have also had to cancel an appearance at the World Surf League's Surf Ranch Pro on Saturday, Sept. 8. Weezer, Run the Jewels and Taking Back Sunday have now joined the Riot Fest lineup and Social Distortion will now headline the Surf Ranch Pro, but it won't be the same without you there, Mark, Matt and Travis. We'll miss you.
As hard as it might be for fans to take the news (especially if you already bought tickets), it's even harder for Barker, who adores his fans and his music.
"The past few months have just sucked as I have been sidelined just waiting for my doctors to clear me so I could get back on the road and perform with my band. Unfortunately, the risks associated with drumming are still too great. I am doing everything I need to do so I can get back on the road as soon as possible. I want to thank my fans, family, friends and bandmates for all the love and support," Barker said in the same post.
Blink have promised to make it up to their fans by returning to Riot Fest in 2019 for the festival's 15th anniversary. We certainly hope Barker will be healthy a long time before then.
Rutger Ansley Rosenborg has been an Associate Editor at NBC SoundDiego since 2016. Find out more here, or contact him here.