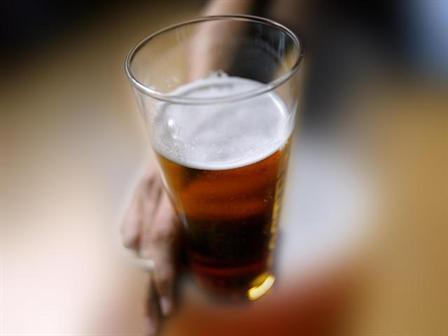 During hard times, you would think it's a bad idea to chase your dreams. Don't tell that to Wes Keegan, the "brewmaster" and owner of TailGate Beer.

A year and a half ago, Wes decided to make his dream a reality at the young age of 22 and started TailGate Beer. His father is actually the one who came up with the TailGate Beer name, but everything else is all Wes. From the recipes to sales, Wes wears many hats in an effort to get a quality brew in your hands.

The best thing about TailGate Beer, besides their great brew, they are based here out of San Diego.

Over the past year and a half, TailGate Beer has seen tremendous growth and won numerous awards for their beers. With 40 plus locations offering TailGate Beer on tap, you can now find them in some of the most popular places in San Diego, like Seau's, Lahaina's, Cane's Bar & Grill, The Ruby Room and Phil's BBQ.

Recently, I had the opportunity to sit down with Brewmaster Wes and sample some TailGate Beer.

We started with the Blacktop Blonde, a beer that was supposed to be offered on a seasonal basis, but has become TailGate Beer's fastest selling brew to date.
Due to its popularity, the Blacktop Blonde is graduating and becoming a staple in TailGate Beer's lineup of craft brews. After tasting the Blacktop Blonde, I can see why. With a little zest and spice, the Blacktop Blonde allows you to enjoy a lighter beer, without giving up any flavor.

Next on the tasting list was their Hefeweizen, one of TailGate Beer's more popular brews. I was able to taste the slight hint of citrus and found it to be very smooth. According to Wes, it's from the malt. He says they use more than most Hefeweizens.
If you're craving something spicy to throw on your grill, like some blackened shrimp or hot links, the sweetness of the Hefeweizen will perfectly counter balance the spiciness and bring out the flavor in the food and most importantly, the beer.

Chocolate malt in an Amber beer? That's right! For the most part, Amber beers are the "gateway" beer that opens the door for a lot of people in regards to sampling styles of beer they normally wouldn't try.
Unfortunately, a lot of Amber brews can be too big in character and taste for someone who has been sipping on domestics for some time. This is not the case with TailGate's Amber Wave, their "flagship" brew. The chocolate malt gives the beer a sweet taste and is the ingredient that I feel makes it very light when drinking.

We finished our tasting session with my favorite style of beer, India Pale Ale. Also know as I.P.A, this style of beer was created to endure the lengthy trips required to ship the beer to other countries by adding a lot of hops. This is also the style of beer that San Diego breweries are becoming famous for. For those who like the intense flavors that come from extra hops being added in the brewing process, this may very well become one of your favorite brews.
TailGate's I.P.A. uses a mixture of Cascade and Magnum hops to round out the finish of this great San Diego I.P.A. Unlike a lot of breweries who intentionally brew their I.P.A.'s to have a big taste and finish, TailGate's I.P.A. is on the lighter side and is what the industry calls "very drinkable" for this style of beer.

There were two beers we did not get to sample, but do want to mention. One being the Brown Ale and the other is their Sweet Stout, a winter seasonal.

"The Brown Ale is a simple brown brewed with chocolate and roasted oats. The overall impression is a silky, malted ale that adds loads of flavor but doesn't fill you up," Wes said. "The Sweet Stout is a limited release that comes out around the holidays that draws its full body character from dark chocolate malt and heavy doses of roasted oats."

With a focus on making a beer that "you can identify with and really drink", while maintaining the style's true character, TailGate Beers are a perfect match for pairing with food when you are grilling. Adding the fact they are all refreshing, from the Blonde to the I.P.A., you can enjoy any of their beers when spending the day in the sun. All TailGate Beers maintain a consistent 5.0 percent alcohol content level, but the I.P.A. maintains one of the true characteristics of this style with a 6.5 percent alcohol content level.

TailGate Beer, "The Unofficial Beer of America's Unofficial Pastime." Remember, you ain't tailgating if you ain't drinking TailGate Beer! Ask for it everywhere!