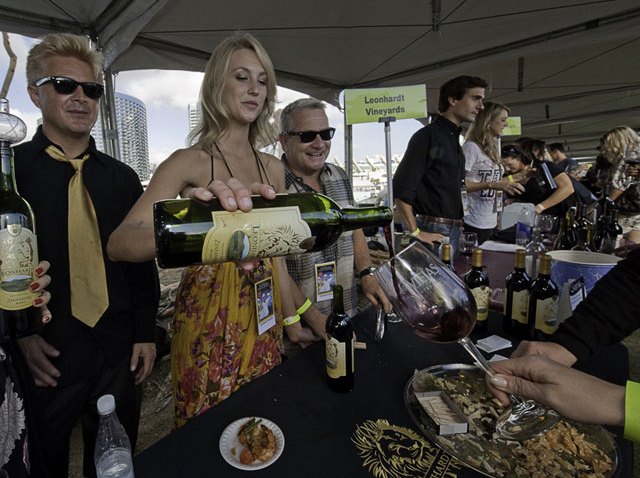 Every year, foodies from all over the country converge in San Diego to not only taste the creations of culinary masters but also sample the talent of rising stars in the food industry.
In 2010, it will be no different as the San Diego Bay Wine & Food Festival begins its preparations for this year's event. Scheduled for November 17-21, the week of tastings, dinners and parties is known as the largest wine and food festival in Southern California.
On Monday, festival producers announced the star-studded lineup including, among others, Roy Yamaguchi of Roy's Hawaiian Fusion Cuisine.
"The culinary star power featured at this year's Festival has never been seen before in the city of San Diego," said Michelle Metter, the Festival's co-producer.
Other notable celebrity chefs are StarChefs Rising Star Katsuya Fukushima and Cooking Light Magazine's Billy Strynkowski as well as local favs Deborah Scott of Indigo Grill/Kemo Sabe/Island Prime/C Level, Brian Malarkey of "Top Chef" and TLC's "Mega Bites."
Other expected celebs include Chef Patrice Olivon of the French Embassy, 11th generation glassmaker Maximillian Riedel, Master Sommelier Joseph Spellman, Chef Suzette Gresham of Acquerello, television star Sam Zien of "Sam the Cooking Guy," Chef Bernard Guillas of the Marine Room, Chocolatier Michael Antonorsi of Chuao Chocolatier, Chef Scott Wagner of ChileCo Catering, Chef William Bradley and Sommelier Jesse Rodriguez of Addison Del Mar, founder of the San Diego Wine & Culinary Center John Alongé, Sommelier Lisa Redwine of The Shores Restaurant, among others.
The personalities will be a part of the festival events that range from the VIP party kickoff on Nov. 14 to the Industry Insiders Party on Nov. 18.
The grand tasting event and "Chef of the Fest" competition will include more than 170 wineries, breweries and spirit producers along with 70 of San Diego's finest restaurants. Tickets range from $125 to $175.
Also this year, there will be a WineRave giving partgoers the chance to taste 25 of the edgiest wine and spirits on the market today while they dance the night away at one of San Diego's top nightclubs. Tickets are $45 in advance, $60 at the door.
Tickets and the complete schedule for the San Diego Bay Wine & Food Festival will be available online or by calling 619-342-7337.