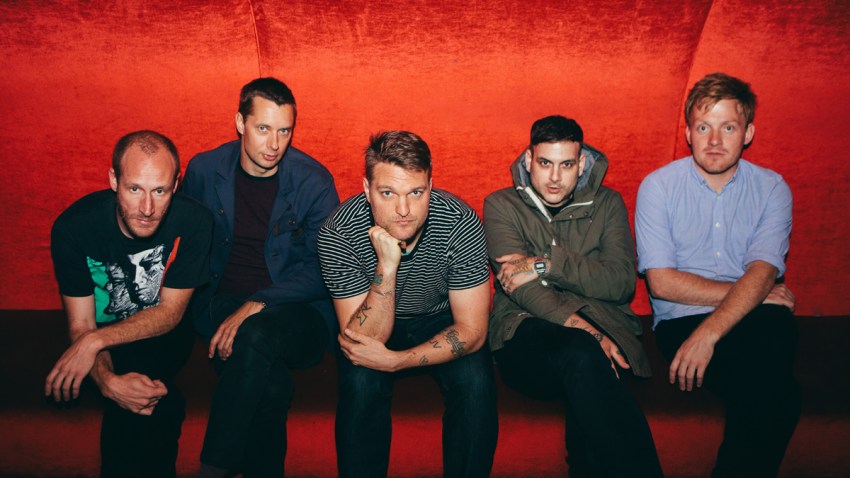 Things are good, right? I hope so. It should be if you're a concert-attending fan, because more shows are coming here than ever before. We must welcome the Observatory North Park to SD and all the shows they're bringing to town. It means good things for fans of metal, rap and reggae. I did my best to look over the calendars for February and pick the best show every night of the month. Some of them I booked; some I'll be going to; and others are others, in that I can't guarantee I'll be in attendance, but they are worthy if you are a fan. That being said, I'll see you at a show!
Feb. 2: Pleasure Fix, the Slashes, the Bassics at Casbah. All-local bill with sleazy rock and '60s Mod sounds.
Feb. 3: Los Kung Fu Monkeys, Authentic Sellout, the Bassics at Casbah. Punk, ska and Mod night!
Feb. 4: Vonda Shepard at Belly Up. For those who liked songs from "Ally McBeal," Shepard played the resident performer at the bar where everyone got drinks after work.
Feb. 5: Hanni El Khatib, Shady Francos, the Kabbs at Casbah. El Khatib's new song "Melt Me" is rock & roll personafied!
Feb. 6: Generationals at Casbah. New wavers who had another band prior called the Eames Era, whose song, "Could Be Anything," was featured on the "Grey's Anatomy" soundtrack.
Feb. 7: Earthless, Arctic, Loom, Operation Mindblow Light Show at Casbah. Slow metal for the stoner in you.
Feb. 8: Catfish & the Bottlemen at the Merrow. Welsh band that got its start playing the parking lots at venues that were hosting big shows by other artists.
Feb. 9: Botanica Chango, Hail Hail, Chateau at Casbah. All local bill -- and have you ever been to Botanica Chango? It's a band and a store in town.
Feb. 10: Retox, Whores, Ghetto Blaster, the Long & Short of It at Casbah. All-local punk-rock show -- and that would be the long and short of it.
Feb. 11: Jessica Lea Mayfield at Soda Bar. Minimalist country rocker.
Feb. 12: Barbarian, Fever the Ghost, Idyll Wild, Mystery Cave at Casbah. Record release party for Barbarian's new record, "Night Blooms."
Feb. 13: The Stone Foxes, Shake Before Us, Coo Coo Birds at Casbah. A night of rock & roll and blues.
Feb. 14: The Dodos, Springtime Carnivore at Casbah. SF-based duo that just released a new album, "Individ."
Feb. 15: Swami John Reis, the Blind Shake, Creepxotica, Secret Samurai, Alvino & the Dwells at Casbah. Local legend Swami teams up with Minnesota-based band the Blind Shake to make an album entitled "Modern Surf Classics."
Feb. 16: Riff Raff at Observatory North Park. I need to see this, just because. Hip-hop from this cartoon character could be interesting to witness.
Feb. 17: The Fresh Beat Band at Balboa Theatre. This one is for the kids!
Feb. 18: Meghan Trainor at House of Blues. Because it's all about that bass!
Feb. 19: Scott H. Biram, Jesse Dayton, Ypsitucky at Casbah. This one-man band is legit.
Feb. 20: Surfer Blood, Talk in Tongues at Casbah. One of the coolest bands ever to come from West Palm Beach, Florida -- if not the coolest!
Feb. 21: Steve Poltz at Belly Up. Local legend and troubadour to the world.
Feb. 22: Cursive, Beach Slang, Twinsmith at Casbah. Omaha, Nebraska gave us Saddle Creek Records and indie rockers Cursive -- I thank them.
Feb. 23: In Flames, All That Remains, Wovenwar at House of Blues. Metal, metal and more metal, plus locals Wovenwar, who feature members of As I Lay Dying.
Feb. 24: Cold Blue Mountain at Soda Bar. Love this description from the band's Facebook page: "Chico, CA-based five piece combining equal parts doom, sludge, anthemic post-metal, beards, cheap beer and bad jokes for a crushing, pretense-free sound."
Feb. 25: Cold War Kids, Eliot Moss at Observatory North Park. Representing San Pedro, California, the band's new album, "Hold My Home," is available now.
Feb. 26: Deap Vally, Muscle Beech, Wild Wild Wets at Belly Up. Two rad girls who rock, one of whom used to be in local band the Troys.
Feb. 27: Metalachi, Madly at Casbah. Metal meets mariachi.
Feb. 28: The Church at Casbah. "Under the Milky Way" will be sung, and people will sing along.
That's all she wrote! Remember to listen to Loudspeaker -- the all-local music program on Sundays, 7-10 p.m., via 91x. Happy concert going!

Tim Pyles, a longtime local who grew up in La Jolla, is the unofficial mayor of local music and hosts the Loudspeaker show via 91x every Sunday from 7-10 p.m. He also books local acts at the Casbah, where he hosts the weekly Anti-Monday League, and books/hosts the monthly Maryjane's Underground at the Hard Rock Hotel. Follow him on Twitter @thelocalpyle or reach him directly here pyleste@yahoo.com.