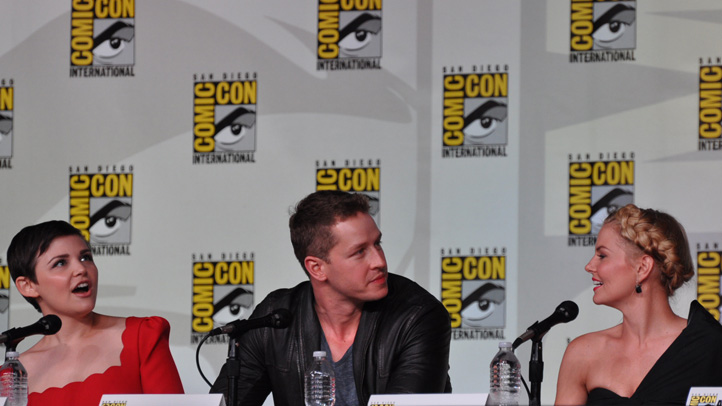 Captain Hook will make a splash on "Once Upon a Time."

The revelation that Peter Pan's adversary is sailing to Storybrooke was teased in a video at the conclusion of the ABC fairytale drama's Saturday morning Comic-Con presentation. The footage featured a shadowy gloved character breaking into Mr. Gold's Pawnshop, strutting past a tall ship model, smashing a display case and affixing a hook to his hand.

At the conclusion of the show's first season, the spell over the town of Storybrooke was seemingly broken and the characters were engulfed in a purple cloud.

"I never could have conceived of the brilliance that is the first couple of scripts," said Ginnifer Goodwin, who plays Snow White, of the second season. "But I can say that as an audience member, it's exactly what I would want to see."

"Once Upon a Time" actors Goodwin, Jennifer Morrison, Josh Dallas, Lana Parrilla, Meghan Ory and Emilie de Ravin were joined by show creators Edward Kitsis and Adam Horowitz on the panel. The cast said they will begin filming the next season Monday.
The cast talked about the damage season 1 had done to their bodies, as they all perform their own stunts. Goodwin said she had to get stitches on her left eye thanks to a particularly tricky scene with a net.

Kitsis and Horowitz promised fans that the identity of Henry's father would be revealed in the new season, with Kitisis joking it could be fellow Disney character Goofy.

"I think people will be very excited to see that storyline play out for sure," said Morrison, who plays Emma Swan, the daughter of Snow White and Prince Charming, and the biological mother of Henry.

Before the presentation, the show's signature title cards, which feature characters depicted in the show, from the first season were shown, along with three from the upcoming second season, which referenced "Mulan," "Sleeping Beauty" and "Jack and the Beanstalk."