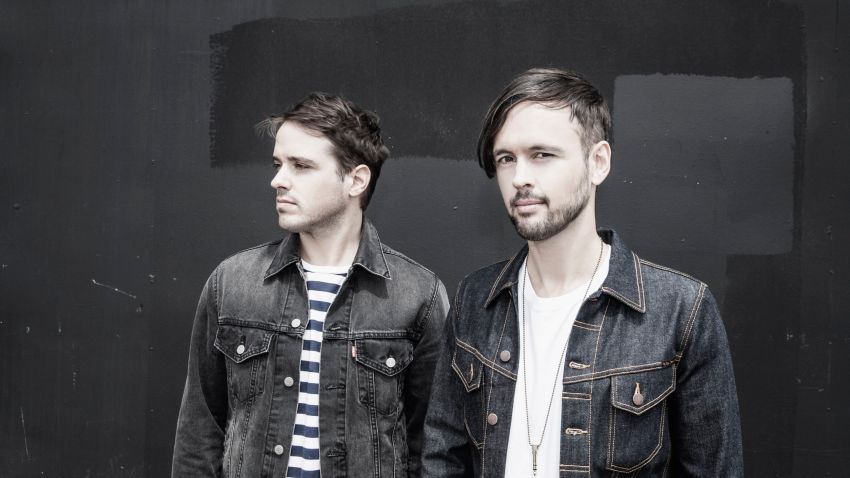 "Letterman came over, and he is surprisingly tall. He's quite a big dude."
Atlas Genius' frontman, Keith Jeffery, is talking to me via phone while the band is staying in L.A. to play "Jimmy Kimmel Live," and we're talking about the strangeness of late-night talk shows. Even though the Adelaide, Australia-based indie-pop group (composed of Keith and his brother Michael on drums) is used to playing sold-out shows in huge halls the world over (like the House of Blues here in San Diego on Wednesday, Sept. 2), Jeffery still gets a tad star-struck now and then -- specially when the man shaking his hand (and asking his brother about his drum set) is David Letterman.
"I mean, he's a legend," he says. "We've played a few of those types of shows, and they're all great at what they do, but there was something about that particular show -- even in Australia, you can watch Letterman if your parents let you stay up late enough -- so it was a big deal to me because I grew up watching him. To come from an entirely different place, from across the world and then play that stage. It was just surreal."
The performance part of it doesn't bother him ("They're a lot of fun," he says), but he's still reconciling the fact that those shows get beamed out to such huge audiences.
"One song is reaching millions of people. I mean, you play one show, and even if it's for thousands of people, it's so much different."
If there's one thing Jeffery should be used to, it's reaching millions of people. After all, you can't turn on any number of San Diego radio stations without hearing one of the band's massive singles, like the chart-topping "Trojans," "If So" or the recently released "Molecules." He admits the response, especially stateside, has been incredible.
"As people, we tend to pay attention to foreigners," says Jeffery. "If you came to Australia, you would be given the red carpet treatment. And it's the same for us here; people treat us amazing. Once we start speaking and people hear our accents, people treat us so nicely. Crowds have been the same -- they've been very kind to us."
What's there not to love? Jeffery and Co. play a type of soaring, electro-tinged indie-pop that just translates easily and effortlessly into some of the most melodic anthems we've heard in quite some time. You could say they've got a knack for delivering a hook, and listeners have been eating it up from the get-go. Even so, the singer/guitarist is still grappling with the challenge of getting the band's excellent new album, "Inanimate Objects," into their fans' hands.
"We did everything we wanted to do on this album," he tells me. "It took a long time … But we're really happy with what we've done, and we're very proud of it. Now, I just really want people to hear it. The only thing I think about is that there's so much good music coming out constantly, that it's hard to get attention in this day and age ... But you know, I'm proud of it. And I know Michael is too. That's all we can do -- you have some excitement for it, and if only one person loves it, it's still a success."
I reassure him that would wouldn't be an issue; they're simply more popular and in-demand than ever. Even when they deconstruct a song and completely change it for special one-off radio/blog performances, their fans go nuts. Jeffery's solo acoustic renditions of "Trojans," for example, are stunning and delicately subdued when compared to the studio version. I ask him if he preferred playing their songs one way over the other.
"I like playing with a full band and playing the songs the way we produced them," he says. "But what I like about the stripped-down acoustic versions is that you can make them impromptu a little. If it's by myself, I can slow it down or speed it up; there's a uniqueness every time you do that. If you're playing in a band, I can't do a reggae version, otherwise it'll be a train crash," he laughs. "I like 'em both. But ultimately, I feel like if you can strip all the production off a song and play it on an acoustic guitar and it still sounds good, you're doing something right. There are exceptions of course; for certain songs, sometimes it is all about the vibe. One of my favorite all-time songs is 'Killing in the Name' by Rage Against the Machine, and if you take away the rage, the power and the production of that song -- it's just not going to be the same." He pauses for a second. "Speaking of Rage, I actually had the extreme pleasure of meeting Zack de la Rocha in Silverlake the other day."
Get the F out.
"I was at a coffeeshop, and a friend of mine and I were getting coffee on the way to a recording session. My friend goes, 'I think that's Zack de la Rocha in front of us,' and it was! I mean, I am such a huge fan. One of the greatest shows I ever saw was when they reunited and played Australia on that tour. The whole crowd was just jumping up and down in unison the whole time. So I went up to him and we happened to have a mutual friend, so I mentioned him and that luckily broke the ice, and we had a great conversation. And you know what? He was refreshingly open and honest. There's always that fear when you meet your idols that they'll be a total asshole, but I ended up liking him even more than I did before. And you know what? Our coffees went cold. That's how long we talked. He didn't have to stand there and talk to me so long, but he did, and that was so awesome."
Letterman? Zack de la Rocha? It sure doesn't suck to be in Atlas Genius. And here's the kicker.
"Here's another one: We were rehearsing in the valley here in L.A., and the Rolling Stones were rehearsing next door to us," he laughs. "That's one of those moments where you go, 'Is this really happening?' We literally would walk down the corridor and Charlie Watts would walk out of a room. I was getting coffee at a machine and Mick Jagger walked by. Here we were, working in our 'office' and all week long, our workmates were the Rolling Stones. And we could hear them rehearsing too. Short of seeing the Beatles, that's about as good as it gets."
Atlas Genius play House of Blues on Wednesday, Sept. 2, with Dreamers and the Shelters opening. Tickets range from $14-$35, and are available online here.

Dustin Lothspeich plays in Old Tiger, Diamond Lakes and Boy King. Follow his updates on Twitter or contact him directly.