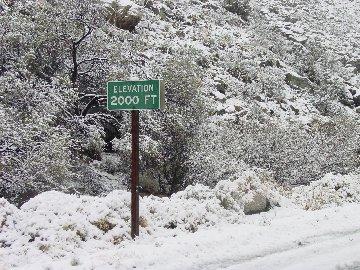 San Diegans who are still reeling from the battering the county took this week are in store for some wet winter weather in their near future.
This week's storm was a wet one, with more than 1 inch of rain falling in many areas and 2-3 inches in a few spots. Above the 3,500 foot level, the moisture turned to snow and there was was plenty of it. At the highest point in the county, 6,000 feet at the top of Mount Laguna, more 18 inches of the white stuff made it to ground.
While San Diegans can plan on cool, partly cloudy weather through Sunday, another storm is due to arrive on Monday. While it may not turn out to be as potent as this week's, the moisture from it will continue to relieve the region's drought conditions.
Looking still farther ahead, another storm is looming on the horizon -- it could arrive Christmas Day.
Speaking of arrivals, winter officially arrives on Dec. 21 at 4:07 a.m. It will be the shortest day of the year.