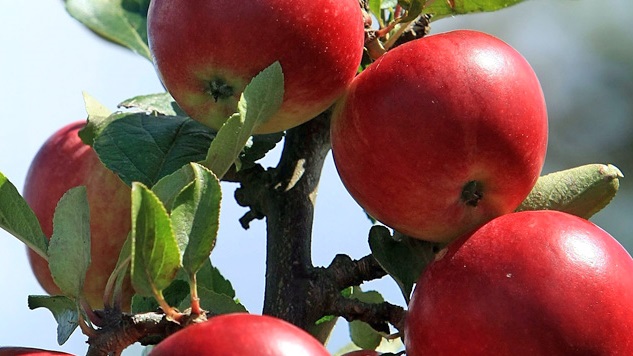 HELLO, FALL FRUIT: Labor Day Weekend signals many things around California: The coming of the tall ships to Dana Point, the largest county fair in the nation, and apples and grapes. The grapes are methodically squished and squashed around wine country, but the ripe, red, round fruit? They're almost totally the province of our smaller, apple-famous towns. We're thinking of Oak Glen, of course, which gets its multi-month apple festival going on Sept. 1, on the dot, and Julian, which may be one of the best-known apple pie places on the planet. (If you intend to challenge us on that, please walk into one of the apple pie-making shops along Main Street and tell them of your nefarious purposes first. We bet you won't get one word out of your mouth, because you'll be too busy buying up delicious pie.)
JULIAN APPLE DAYS FESTIVAL: True, Julian's apple-tacular does alight upon a single weekend. That weekend is Saturday, Oct. 5 and Sunday, Oct. 6, but if you know the autumn-sweet town, you know that apple time is basically September and October and probably part of December. In fact, would we be off-base if we called Julian's apple time an all-year-long thing? We mean, the local apples aren't necessarily ripe throughout the year, but the restaurants and shops rock their appled identity very well, regardless of calendar month, thank you very much.
BUT... if you need your Julian and you need some extremely close fruit contact before the first weekend in October arrives, Menghini Winery hosts a grape-stomping day on Saturday, Sept. 7. We're just glad it is grapes getting stomped, and not apples, because that sounds extremely difficult, what with the cores and seeds and all. We'll take our apple in beautiful crusty golden pie form, if you please.
Worth The Trip
Our daily look at deals and getaways
AND... it so happens that this is year 104 for the apple festival. If you've passed your centennial, you basically are one of the best-known apple pie places on the planet. Fact. We'll stand by that claim, firmly, with fork in hand and napkin tucked at our collar.
Copyright FREEL - NBC Local Media