Like sand slipping through your fingers, this final stretch of the San Diego summer is quickly disappearing as school resumes and the days begin to shorten. Luckily, there's still a little time to sip and savor what's left of the season. So, post up on a local patio this month and try these cool concoctions from highly-rated restaurants found on Yelp while's it's still hot.
Masters Kitchen & Cocktail (Oceanside)
Newly opened, the locals and yelpers are already giving this place their thumbs up, perhaps due to the drinks being poured here. Warm weather libations include the refreshing Rosemary Lemonade, with gin, fresh lemon, St. Germaine and muddled rosemary. The crisp Cucumber Martini is a delight with citrus, simple syrup and organic cucumber vodka. If you need a little extra heat in your summer sipper, try the Spicy Mango Margarita. This drink steps it up a notch with fresh mango and Serrano chilies.
The Land and Water Co (Carlsbad)
The menu at this spot changes monthly so slide in before September hits. The Saffron Cooler fits the bill: a vodka based drink with tropical pineapple, lime and a splash of soda with yellow chartreuse. Keep the "I'm on vacation" feeling alive in the Carlsbad Village with the Italian Riviera Mojito made with coconut rum, mint, line, a guava puree and crème de banana – all topped off with a Prosecco float! Alternatively, if you're feeling fiery, order The Sweet Heat, a cocktail mixed with strawberries and tequila, plus lime, agave and cayenne.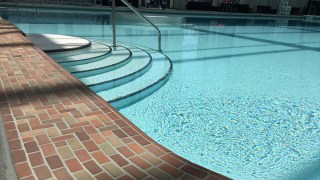 Free or Cheap Things to Do in San Diego
AVANT (Rancho Bernardo)
Priding themselves on handcrafted cocktails, the bartenders at AVANT can mix up a summer storm. The La Paloma is the perfect pairing for their patio, made with fresh lime, grapefruit, agave nectar and tequila with Himalayan salt. If you've been obsessed with fruity sips this season, we suggest Gigi's Sparkle, a gin cocktail created with sweet agave, fresh squeezed lime and watermelon. The Mojito is a solid choice too, with mint fresh from the property's onsite garden.
The 3rd Corner (Encinitas)
Maybe these sunny months have resulted in your garden yielding a veggie crop worth bragging about? Cheers to your green thumb with a drink full of seasonal flavors at this Encinitas business. The Heirloom Tomato cocktail is made with vodka and St. Germaine, mixed with lime, basil and cherry tomatoes. If you've already had your greens today, we suggest the Aperol Spritzer, a delightful mix of Prosecco, seltzer, orange and the Italian aperitif in the title. The Blood Orange Margarita and Pineapple Elderflower are also notable choices.
Sea & Smoke (Del Mar)
Have you been downstairs? It's a stunning lounge, bar, and patio. The vibe is complete with impressive cocktail offerings like the Cuke Mule, a cucumber twist on the classic with a kick of key lime. Lounging on the outdoor patio is a summer dream, especially with the Yuzu My Sweet Heart in hand. The drink combines crushed cilantro, lime and tequila with syrup from the aromatic Asian citrus. If you want a virgin option, go for the Ginger Sparkler: no booze, but plenty of peach puree, ginger, lime and soda water.

Trish Sanderson is the community manager and marketing director for Yelp North County San Diego. She leads the local community of Yelp reviewers both online and off.