Omari Fleming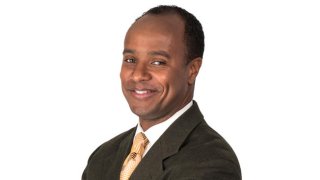 Omari Fleming has lived all over the country pursuing his passion for journalism. The Los Angeles native is thrilled to be back in Southern California and reporting for NBC 7.
Before joining the NBC 7 news team Omari was an anchor and reporter for Fox Philadelphia.
During his two years at the station he covered local issues, and he was also the affiliate reporter for several national stories. From the Jerry Sandusky scandal, to Hurricane Sandy, to the tragic Sandy Hook school shooting.
Omari graduated from Hampton University's Mass Media Art's Department, in Virginia. From there he went onto pursue a Master's Degree at the University of Missouri Columbia.
From Missouri he started his journalism career at WAPT, the ABC affiliate in Jackson, MS. He spent three years there as an anchor and reporter and then moved to Memphis where he covered corruption, politics and crime as the weekend anchor and reporter for CBS-affiliate, WREG.
Omari enjoys living Downtown and spending free time at the beach, rollerblading and heading to the local mountains to ski and snowboard.
Catch Omari reporting weekdays and nights on NBC 7 News.