Dagmar Midcap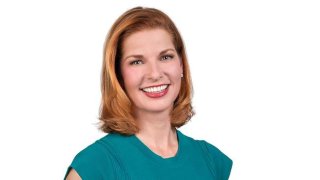 A Vancouver native and welcome addition to America's Finest City in 2011, Dagmar Midcap has taken San Diego's weather by storm. Aside from forecasting, Dagmar's has a unique set of talents that include test-car driving, motorcycle-riding, and ice hockey. Her personal and professional interests prove as exciting and distinctive as her name.
Before moving to San Diego in 2011, Dagmar was the main weather anchor for WGCL-TV, the CBS affiliate in Atlanta. Dagmar started her television career at WBNX-TV in Akron, Ohio before returning to Canada to work on VTV's "Breakfast" before moving to Global Television's BCTV "Morning Show" as a traffic reporter. Midcap is also a well-respected automotive journalist and test drove cars and motorcycles as the co-host of Global Television's "Driving Television" show. Midcap attended the British Columbia Institute of Technology's Broadcast Journalism program.
Now settled in San Diego with her brood of three dogs, Dagmar's passion since moving to San Diego has centered on learning about the desert ecosystem, plants, animals and everything in-between.  Watch Dagmar's weather reports at 4, 5, 6 & 11P on NBC 7, online at NBC7.com/Weather or in the NBC 7 app.
Dagmar's enthusiasm for animals and all things environmental can be experienced through her "Down to Earth" segments. Follow her updates on NBC7.com in the Down to Earth section.