Crew Caught Cutting Trees Without Notice
Tree battles nothing new in Leucadia
Wednesday, Feb 23, 2011 | Updated 5:15 PM PDT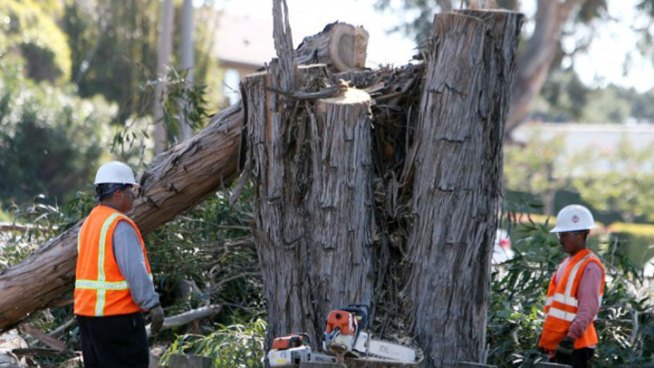 Jamie Scott Lytle/North County Times
Workers stand by the trunk of a eucalyptus tree just cut down Tuesday in the 1000 block of North Coast Highway in Leucadia. The work stopped after neighbors complained that they had not been notified of the work.
The North County Transit District stopped a tree crew that was felling eucalyptus trees Tuesday on the eastern edge of Highway 101 in Leucadia after community members said they had not been notified of the work as promised, NBC San Diego media partner The North County Times reported.
Alex Wiggins, a spokesman for the district, said in an e-mail Tuesday the "NCTD regrets the lack of notification to local residents. We have instructed our contractor to temporarily halt the work, and we will take appropriate corrective action."
Wiggins said that the district would pause its cutting work for the next few weeks and share its plans with the city of Encinitas and with the Leucadia Highway 101 Mainstreet Association.
Read the rest of this story, including perspective from local residents, at The North County Times.