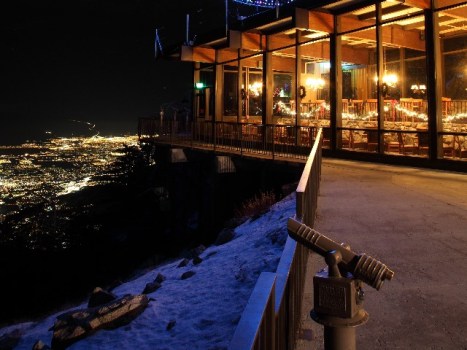 Palm Springs Aerial Tramway
The Peaks Restaurant at Palm Springs Aerial Tramway.
8,500 FEET EATING: Does a bread roll taste a bit breadier, or even rollier, at several thousand feet above sea level? You can find out, within hours, even if you're currently at or near sea level. The Peaks Restaurant at the Palm Springs Aerial Tramway sits at 8,500 feet, far above the desert, city-lit earth floor below, and so the fact that it boasts a view or two goes without saying.
STARRY SUPPER: No, we're not saying, if you're out in the P.S. for the Palm Springs International Film Festival, which opens on Thursday, Jan. 6, that you'll see a star far below. You'll see several above though, and maybe, just maybe, sitting in the dining room, too. It is, after all, one of the most unusual eating experiences in the desert, and all of California. Stars are said to love that, but then, we all do.