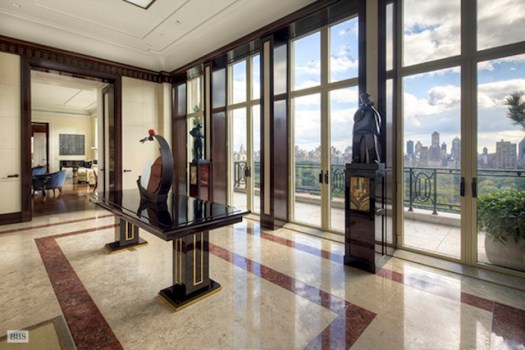 Brown Harris Stevens
A view of 15 Central Park West where a penthouse sold for a staggering $88 million, the most expensive residential real estate deal in New York City in history.
Just last month jaws dropped when the
Wall Street Journal
reported
that the former chairman and CEO of Citigroup hoisted
onto the market
his elegant Manhattan penthouse for an astounding $88 million. Perhaps even more surprising was Weill's proclamation that he would donate proceeds of the sale to charity.
While some hedged bets that
Weill's penthouse
, which he picked up in August 2007 for $43.7 million, would linger on the market for an indefinite amount of time, behind the scenes the Rybolovlev family was busy making moves to buy the glamorous crib. Dmitry Rybolovlev, the patriarch of the Russian family and a man worth around $9.5 billion, has a colorful background that
includes
formal medical training, part ownership in the AS Monaco soccer team, and a stint in jail for murder (he was acquitted a year later for lack of evidence).
While it makes sense that Rybolovlev would need a posh place to stay while in New York,
Forbes
suggests
that it's Rybolovlev's daughter Ekaterina who is the real new owner of the full-floor penthouse. The 22-year old is reportedly studying at an undisclosed American university and plans to stay in the apartment when she visits New York.
Regardless of who bought the ridiculously swanky apartment, the sale goes down in New York City history as the most expensive residential real estate deal, ever.
Business Insider
breaks down
the numbers and calculates that the buyer is paying $13,048 per square foot. Now, that's one happy holidays for the lucky charity that Weill chooses to receive the proceeds.