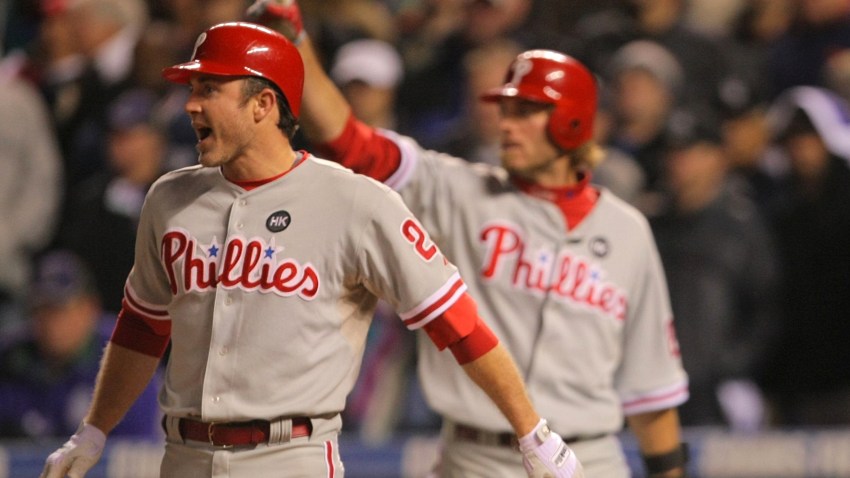 The Philadelphia Phillies are headed to the 2009 National League Championship Series after beating the Colorado Rockies 5-4 in Game 4 of the NLDS.
For the second year in a row, the Phillies will take on the Los Angeles Dodgers as they vie for a spot in the World Series.
Cliff Lee held the Rockies at bay for seven innings as he pitched a near flawless game in the crisp October air at Coors Field in Denver.
But things fell apart in the eighth inning as a botched throw from Chase Utley to Jimmy Rollins set off a chain reaction allowing the Rockies to load the bases and eventually take a 4-2 lead.
"These couple of games have been kind of character builders," Howard said. "This is just step two of where we're trying to get to."
The Rockies looked as though they were going to send the series back to Philadelphia when Yorvit Torrealba's two-run double broke a 2-all tie in the bottom of the eighth. That came after Fowler scored the tying run on pinch-hitter Jason Giambi's two-out single off Ryan Madson.
Fowler hurdled Utley, who stepped into the basepath to field Todd Helton's slow grounder, and his quick flip to second base was wide right and mishandled for an error by shortstop Jimmy Rollins.
That put two on for Tulowitzki, and Madson relieved starter Cliff Lee in a double-switch that also brought in left fielder Ben Francisco to replace Raul Ibanez.
It paid an immediate dividend when Francisco raced in and made a diving catch of Tulowitzki's bloop to left for the second out. But Francisco couldn't get to Giambi's single fast enough to keep Fowler from scoring the tying run from second base.
The Fightin' Phils wouldn't let that stand though, as they pulled off a three run rally in the top of the ninth.
Shane Victorino and Chase Utley both scored as Ryan Howard hit a two-run double with two outs to even the game 4-4. Then Jayson Werth slammed a ball into the left field fence allowing the Phillies to take a 5-4 lead.
Closer Brad Lidge earned his second straight save, once again retiring cleanup man Troy Tulowitzki with two on to end it. The Phillies celebrated on the infield at chilly Coors Field before retreating to the clubhouse to spray champagne.
"No one got rattled and no one was worried," Werth said. "Going back to '07, we got swept by the Rockies and I think everybody learned a lesson. Everybody knew what we had to do."
The Phils will face off against the Dodgers in L.A. Thursday night.
Copyright AP - Associated Press