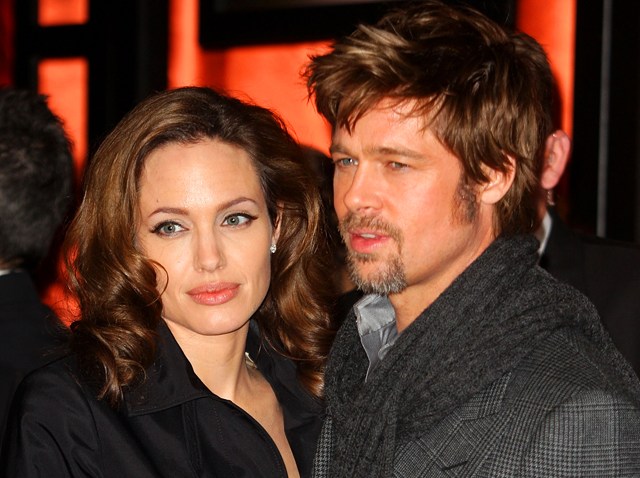 If Angelina Jolie ever stars in another movie with Brad Pitt, she'll be out for blood, not romance.
The power pair starred in the 2005 movie "Mr. and Mrs. Smith," and went on to move in together, have three children and adopt three more. Now, Jolie, who spoke to Vanity Fair to promote her upcoming film, "Salt," thinks their potential as onscreen love interests is finished.
"I'd love to," Jolie, 35, said. "[But] when you're a couple, there are certain things people don't want to see you do. It becomes too indulgent, too personal. I don't think people want to see people who are really together intimate on-screen. Maybe we have to play bad guys that try to kill each other, so it's just fun and aggressive, not dealing with some man-woman deal."
Not only might fans not appreciate seeing the real-life lovers act smarmy onscreen, Jolie and Pitt could feel uncomfortable trying to generate cinema chemistry when they have the real thing at home.
"We've thought about that, but it becomes personal now that we actually have kids, she said. "And if we work on it, we pull from our own life, which is funny to us, but you feel strange sharing too much."
Other tidbits from the interview include a firm denial that she is now pregnant, and a firm maybe on whether she ever will be again.

"We're not opposed to it," she said. "But we want to make sure we can give everybody special time. They're kids now, and can play together, but they're going to need a lot more talking in the middle of the night, like I did with my mom for hours. We want to make sure we don't build a family so big that we don't have absolutely enough time to raise them each really well."

Will she marry Brad Pitt? "It's just like we already are. Children are clearly a commitment, a bigger commitment [than marriage]. It's for life."