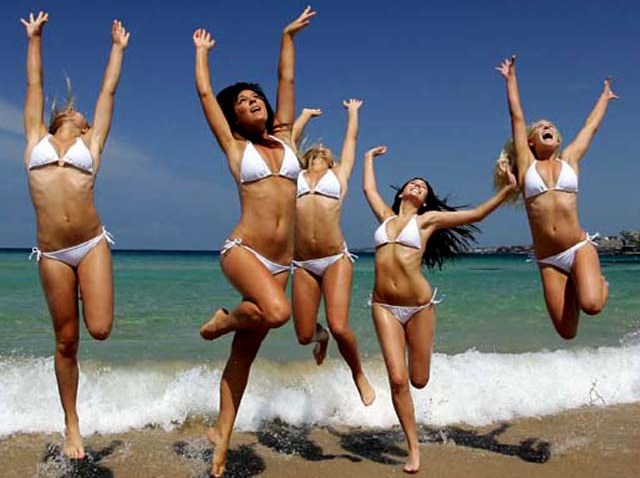 What will you be wearing on the beach next summer? Chances are it's being unveiled at the San Diego Convention Center, where the Action Sports Retailers show is underway.

You name it, surfboards, bikinis and board shorts -- it's all there.

"You want to have something unique, you want to have something fresh, you want to have something new," said Erin Schrier, who was looking for bikinis.

At the Convention Center it's summer 2011, where the major names on the beach sell the future and where Schrier is shopping for next years' designs.

"There is a lot of difference from year to year, different bodies, different colors, different prints, different styles," Schrier said.

Billabong designers say picky shoppers want something new every year and it's their challenge to come up with it.

"One year the band is in, one year the triangle is in. Styles circulate in swim as they do in women's clothing," said Design Director Mandy Fry.

So from booth to booth, major swim wear brands look to put their own stamp on a new line of bikinis. But the same goes for men -- and their board shorts.

"Five years ago the fabric was heavy, it didn't dry as quick. These days you get out of the water, the board short dries within minutes," said O'Neill Clothing spokesperson Shawn Peterson.

He says making swim trunks today is about style and technology.

"The fabric, how much stretch it has, how fast it dries and we have a new feature called nano text, it goes through rain, sleet or snow and it can go through anything," Peterson said.

With names like Hyperfreak 2.0, the idea is to sell a high fashion, high priced board short -- and now comes the Hybrid shorts -- you wear in or out of the water.

"You look at it, it has belt loops, draw cord, so you can wear it to a barbeque or you can wear it to the beach. Our saying is 'from the beach to the streets,' these board shorts are made to last," Peterson said.


Of course there were all sorts of other cool items at the show. Rusty has a sweatshirt line where the drawstrings are ear buds for your iPod. Reef this year is introducing a flip-flop where you can adjust the arch.

The trade show is not open to the public.