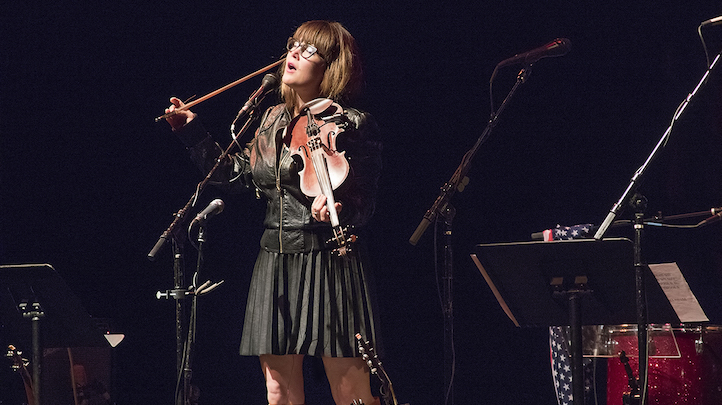 It's been a fun and chill weekend, and there are still some great events to check out today and tonight. Poway Arts is presenting a very special show with Sara Watkins and Sean Watkins, both of Nickel Creek, at Bernardo Winery, which is a beautiful location to see any performance. Meanwhile, Whistle Stop has been trying to present more matinee shows on weekends for those who want to support music but have, you know, "real" jobs and can't be out late nights, so this afternoon you can head over to catch our pals the Color Forty-Nine. The Casbah has the return of Man or Astro-Man?, Ian Olney (RIYL Rex Orange County) is at Soda Bar and the O'Jays and Commodores team up at Embarcadero Marina Park South to play hits from an era when my mom would say is, "back when songs had meaning."
Sunday, Aug. 25:
Sara Watkins of Nickel Creek @ Bernardo Winery
The Color Forty-Nine, Kenseth Thibideau @ Whistle Stop (5 p.m.)
Man Or Astro-Man?, Human Beat @ Casbah
Ian Olney, Rose @ Soda Bar
The O'Jays, the Commodores @ Embarcadero Marina Park South
Funk Jam @ Panama 66
Boz Scaggs, Jackie Bristow @ Humphreys Concerts by the Bay (sold out)
Kenny G @ Pechanga Resort & Casino
Deathboys, Psychotic Reaction, the Beatjackers @ Space
Small Talk, Day Trip, Paperback Scrawl @ Lestat's
Hellhook, Shred Bundy, Outragus Behavior, Final Path @ Bancroft Bar
Wolfpack, the Gay Agenda, Se Vende, Dark Alley Dogs @ Tower Bar
Help Homeless Youth: Dance Party & Auction featuring Atomic Groove @ Belly Up (6 p.m.)
Rage Fest: Crown the Empire, Attila, Veil of Maya, Gideon, Hawk @ House of Blues (5 p.m.)
Paula Fuga, Lady Ri @ Music Box (seated show)
Genpop, Puzzlehead, the Passengers, Was @ Che Cafe
Mochilero Allstars @ Bar Pink (9 p.m.)
Rat Sabbath with DJ Ratty @ Bar Pink (10 p.m.)
Red Room Burlesque @ Bancroft Bar (6 p.m.)
Columbo Sundays @ Park & Rec
Edgar Degas: Works on Paper @ California Center for the Arts, Escondido
Keep It on the DL @ Martini's Above Fourth
Salsa Sundays @ Moonshine Beach
The Contingencies @ Winston's (2 p.m.)
In Concert Variety Show @ The Merrow (6 p.m.)
Psychedelic Sundays with Fish & the Seaweeds @ The Holding Company
Sunday Funday Pool Day @ Lafayette Hotel, Swim Club & Bungalows (6 p.m.)
Country Brunch Live with Six String Outlaws @ House of Blues (10 a.m.)
The Stilettos @ Crossroads, House of Blues (9 p.m., free)
Fish & the Seaweeds @ Crossroads, House of Blues (7 p.m., free)
Pleasure Chest @ Blonde
Hippy Goods & Friends @ Pour House
Trevor McSpadden @ Grand Ole BBQ & Asado
Salsa Sundays @ Queen Bee's (all ages)
Weekender with Stay Bad, H2H, Post Script, Oscar P, Cris Herrera, Eric Medina, JNav @ Quartyard
Rivertucky Band @ Renegade
Benefit for Mike Chiricuzio @ Tio Leo's
Reggae Sunday with Maka Roots, Pacali Roots @ U-31
Uptown Top Ranking @ The Office
Troubadour @ Navajo Live
Stellita's Groove @ Humphreys Backstage Live (8 p.m.)
Reggae Sunday @ Spin
Rosemary Bystrak is the publicist for the Casbah and writes about the San Diego music scene, events and general musings about life in San Diego on San Diego: Dialed In. Follow her updates on Twitter or contact her directly.