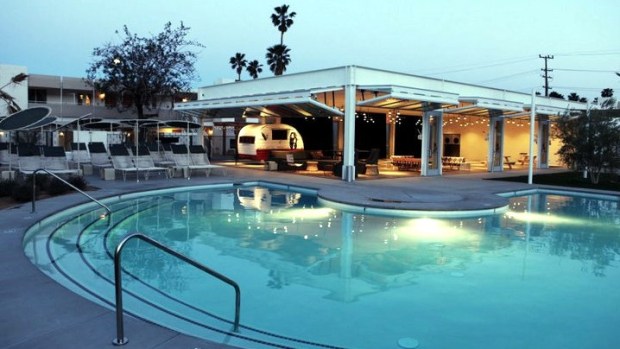 Ace Hotel
Memorial Day Weekend is Desert Days time at the Ace Palm Springs.
POOL TIME: If only we'd been keeping track this last week. We're pretty certain we heard the words "pool" about 27 times, "swimming pool" at 14 times, and "if I don't get some rest and relaxation my head will melt" about nine. The week before summertime's first three-dayer sets people to thinking of chlorine-close convivialities and lazing about in some sunshine. So. Did you get your pool plan together? No? There's still time. And there's a place called Palm Springs out to the east of here -- you've heard of it? -- and there are several lovely, pool-y places to stay.
ACE HOTEL: The Ace, no surprise, has a multi-day, music-laden bash on. It's called Desert Days -- easy to remember -- and it will include a pop-up shop and fundraising for /Lifecycle Ride to End AIDS and a bevy of DJs. Check out the schedule, and then picture yourself in the pool. Whether we have some swimming in our future or not, we should all be picturing ourselves in pools, because the image is instantly stress-reducing. Ahhh.