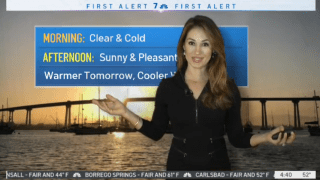 It's another chilly start to the day with mostly clear skies. We'll have plenty of sunshine around with a light breeze from the East in the mountains. This will slightly warm us up for tomorrow.
Thursday will be the warmest day of the week, although not excessively warm.
Into the weekend, a weather system mainly impacting Northern California will increase our onshore flow, cooling us down and bringing in more clouds with possible sprinkles Saturday. In fact, Northern California will be seeing a series of storm systems over the next several days. . . much needed rainfall after the devastating wildfires.
Early next week another weather system will impact the entire West coast, including Southern California. This will give our area a chance for showers mainly on Monday.
TODAY
Coast: sunny - near 70
Inland: sunny - low 70s
Mtns: sunny - mid 60s
Deserts: sunny - mid 80s