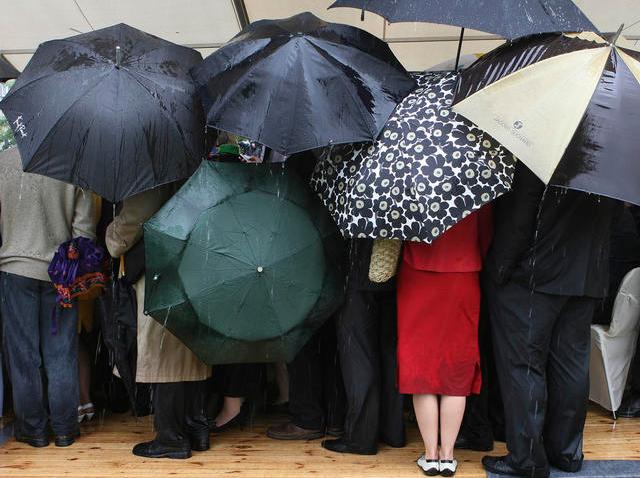 "Today's storm" has evolved into "tonight's storm."
It's coming, but it's just coming later than previous projections had predicted. As of Tuesday morning, the approaching storm looks as if it will now arrive sometime after 4 p.m., which means trouble for commuters and students trying to get home from school or work.
Every computer model run for the region has come up with different results for the past few days. For awhile on Monday, it looked as if the storm was going to pack quite a punch, then the predictions overnight "softened" a bit and it appeared that much of the storm would be spent over the Pacific and deliver just a glancing blow to San Diego.
Now, as of 9 a.m. on Tuesday, the computers are calling for something in between, but nothing as big as any of last week's El Nino drenchers. Still, what may arrive on Tuesday could be strong enough that you need to take note and maybe take a few precautions.
The latest projection has the bulk of the storm moving down along our coast overnight, dropping most of its moisture in the ocean. However, the eastern edge, which as of Tuesday morning was moving onshore just north of Los Angeles, is expected to remain over land as it progresses south into San Diego and eventually into Baja.
It's a tightly compacted low pressure system. Imagine it to be a ball of energized rain, spinning in a counter-clockwise motion as it steadily moves in a southeasterly direction over and down the coast. The eastern third of the ball is over land, with the rest over water. The northern jet stream is the steering mechanism, and it should move this huge ball of cold, moist air down past San Diego through the night, then push it south of the border and over northern Baja on Wednesday. That will keep a third of the ball right over us for maybe 12-14 hours.
How much rain can we then expect? Again, the computer is back to being more generous with its latest prediction, as it calls for up to one-half inch at the coast and maybe three-quarters in the foothills. The big question mark to all this is whether enough cold air will move over the county to produce a few thunderstorms. If that happens, then some areas could catch a few downpours and end up with a lot more than 1 inch of rain.
As for when the storm will end, the computer seems sure of that: midafternoon Wednesday, with sunshine, high pressure and warmer temperatures returning on Thursday and Friday.