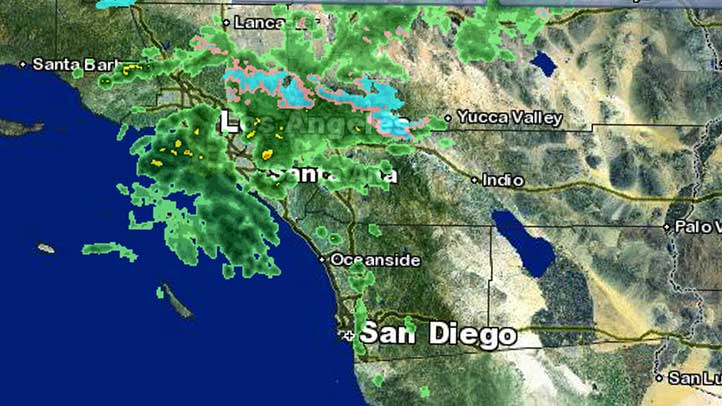 Bundle up and keep the umbrella close at hand.
The next storm system is headed to San Diego County and should arrive by Wednesday evening.
Thunderstorms may also hit parts of San Diego in the late afternoon, with gusts as high as 30 miles per hour, according to the National Weather Service. Showers have already touched down in parts of North County.
Winds should calm slighty by Wednesday night -- but the chance of rain and thunderstorms is the same.
The NWS also issued a high surf advisory through Thursday. South of La Jolla, waves could reach up to 9 feet.
Rain totals through Thursday morning could be at about .15" to .50" along the coast and .75" to 1.0" in the mountains.
Click here for interactive radar
Snow levels will drop to about 2500 feet overnight Wednesday and possibly down to 2000 feet Thursday morning.
A few snowflakes may be mixed in with the rain all day Wednesday. Anywhere from 1 - 8 inches of snow is possible according to weather forecaster Dagmar Midcap.
Winds will be strongest overnight Wednesday at about 40 - 50 mph making traveling through the higher elevations even more dangerous with snow already on the roads.
Thursday will bring some clearing and a spell of warmer, drier weather.
Keep up to date on breaking news: Download our improved iPhone app, follow us on Twitter @nbcsandiego, fan us on Facebook or sign up for our breaking news e-mail alerts .