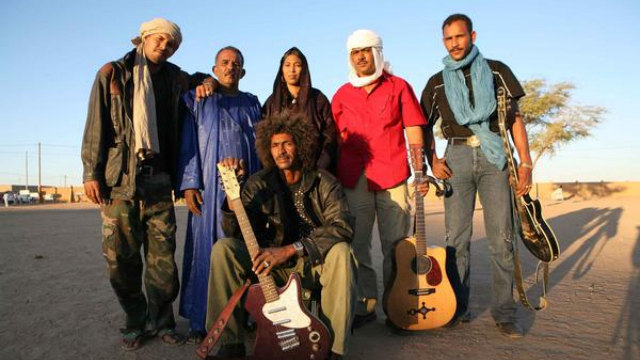 After you've had your fill of art in the daytime, San Diego has some great shows to offer. Obviously, the secret is out about Tinariwen, as they return already to the
Belly Up
for another sold out show. Their shows are epic, and the packed house will only feed the vibe. And because I always lean toward supporting the bands who travel the furthest to be heard, Australia's Boy and Bear bring their indie-folk sweetness to the House of Blues Voodoo Room. From not so far away, but celebrating 15 years since their debut, instrumental rock duo El Ten Eleven return to the
Casbah
to melt faces and blow minds at how much noise can be made by just two dudes with actual live instruments. There's also the Waterboys, who've been around for nearly four decades at the Observatory.
SoundDiego
Music. Community. Culture.
Saturday, Oct. 12:
Art San Diego @ San Diego Convention Center
Barrio Art Crawl @ Barrio Logan
OB Oktoberfest
Taste of North Park
Tinariwen @ Belly Up (sold out)
Horizon Beer & Music Festival 2019: Chromeo @ Embarcadero Marina Park North
La Jolla Art & Wine Festival @ Village of La Jolla
The Rabbit Hole presents Oktoberfest @ Adams Avenue Elementary
Boy & Bear, Stu Larsen @ Voodoo Room, House of Blues
El Ten Eleven, Rob Crow @ Casbah
The Waterboys @ Observatory North Park
Patton Oswalt @ California Center for the Arts, Escondido
The Alchemy Tour: Nghtmre, Slander, Seven Lions, the Glitch Mob @ Park at the Park at Petco Park
Flor, Joan, Lostboycrow @ Music Box
Back to the Garden in "Monterey '67 Revisited" @ Poway Center for the Performing Arts
LizFest 2019: Chica Diabla, Whole Hog, the Touchies, DeathBoys, DJ Diana Death @ Bar Pink
Booty Bassment with DJs Dimitri & Rob Moran @ Whistle Stop
DJ Dennis "the Menace" Borlek @ Whistle Stop (5 p.m.)
Toro y Moi (DJ Set), Zack Fox, 143 Soundsystem, Allblack, Elujay, Yhhg Pnut, TC CJ Team @ Soma
OB Oktoberfest: the Contingencies, Zoofunkyou, Modern Day Moonshine, Aunt Cynthia's Cabin, Blazing Jane, Scott Pemberton @ Winston's (1:30 p.m.)
Dwight Yoakam, Waylon Payne & the Rhinestones @ The Park, Viejas Casino
MoonSugar Collective, Flower Animals, Lefties @ Ken Club
Jerome Dawson & Wazabe Blue @ Mr. Peabody's (4 p.m.)
Sometimes Julie @ Mr. Peabody's (8:30 p.m.)
Sultans of String @ Museum of Making Music
Mini Ladd, BigJigglyPanda @ Balboa Theatre
Prince vs. Madonna: '80s vs. '90s Dance Party @ Blonde
Sara Petite @ Panama 66
Batlords, Natives, War Boy @ Bancroft Bar
Bar1ne @ Music Box (10:30 p.m.)
Taj Express @ The Magnolia
The Tighten Ups @ Pour House (5-8:30 p.m.)
Custard Pie @ Pour House (10 p.m.)
Romeo and Juliet: Pacific Lyric Association @ California Center for the Arts, Escondido
Magical Animals, Runs Deep, the Violet Mindfield @ Black Cat Bar
Ypsitucky @ Grand Ole BBQ & Asado (1-4 p.m.)
The Dave Gleason Trio @ Grand Ole BBQ & Asado (5-8 p.m.)
Carlos Rivera @ House of Blues (sold out)
Country Brunch Live with Sickstring Outlaws @ House of Blues
Casual Yak, Chunky Hustle, Electric Arch @ The Holding Company
Sophia Alone @ Martini's Above Fourth
Fraternity House, Inc. presents Faith, Hope and Brunch fundraiser @ Martini's Above Fourth (11 a.m.-2 p.m.)
The Run Up, City Windows, Dewey Defeats Truman @ Tower Bar
Pinkeye, Digital Lizards of Doom, the Bumbling Woohas, Idle Vessels @ Salty Frog
Anesthesia (Metallica tribute), OzzMania (Ozzy/Black Sabbath tribute), Aether XYZ (tribute to Rush) @ Ramona Mainstage
Frankie T @ De Oro Mine Co.
Ernie Halter, Tony Lucca @ Lestat's
Cassie B Project @ Moonshine Beach
Rachel Horter @ Moonshine Flats
Southtown Generals, Hazmatt @ Winston's (9 p.m.)
Vultures, Pissed Regardless, Palace of Mourning, the Rookies @ Til-Two Club
Billy Gardell @ Sycuan Casino
Mothership, the Great Electric Quest, Shield of Snakes, Psylow @ Brick by Brick
Black Cherry Lightin' @ Wildwood Crossing
Club Sabbat: Pre-Halloween Party @ The Merrow (8 p.m.)
T-Dance @ The Merrow (12 p.m.)
Steph Johnson @ Plaza Bar, Westgate Hotel
Strictly Business with DJs Heminguey & Gabe Vega @ The Office
David Gleason Trio @ Riviera Supper Club & Turquoise Room
Zen Robbi, Jonny Tarr Quartet @ 710 Beach Club
El Ritmo Globo with Viejo Lowbo @ Border X Brewing
Runaway Band @ Renegade
"Art of Flamenco" Dinner Show @ Cafe Sevilla
DJ Bacon Bits @ U-31
The Third Project @ Tio Leo's
The Reflectors @ Humphreys Backstage Live (5 p.m.)
Rising Star @ Humphreys Backstage Live (9 p.m.)
Sleepwalking @ Manhattan Bar
Freemartin @ Indian Joe Brewing
The Verge, DJ LeoRosa @ V Lounge, Viejas Casino
Trevor McSpadden @ Lobby Bar, Viejas Casino
Butts Ta Nuts with DJs Jason Waterfalls, Julz, Kev Mighty @ El Dorado
J Balvin after-party with Eladio Carrion, Lyanno @ Fluxx
Dubloadz @ Bassmnt
George Fitzgerald @ Bang Bang
House2ourselves with Heidi, Galen & Dubeats @ Spin (10 p.m.)
DJ Seinfeld, Roosevelt @ Spin Rooftop (4 p.m.)
DJ Vice @ Omnia
Jus Ske @ Parq
AUF presents Umbrella Nights No. 9 featuring Sprout & more @ Kava Lounge
DJs & Dancing @ Henry's Pub
Rosemary Bystrak is the publicist for the Casbah and writes about the San Diego music scene, events and general musings about life in San Diego on San Diego: Dialed In. Follow her updates on Twitter or contact her directly.