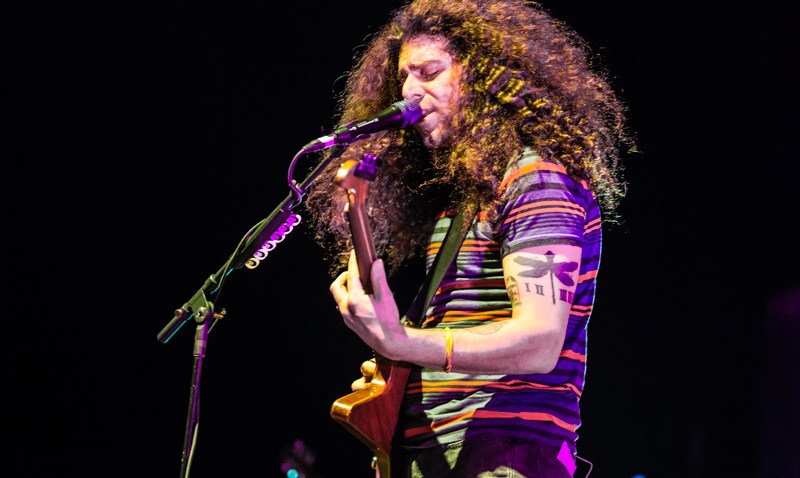 My September ended with some great shows: I saw AC/DC at Dodger Stadium and Van Halen here in town. AC/DC ruled, Van Halen left some things to be desired, but still great nonetheless. Take a look at Rocktober! New venues means more shows and more options; here are my highlights for the month.
Oct. 3: ABC and Wang Chung at Sycuan Live & Up Close (El Cajon). '80s legends perform their hits.
Oct. 5: San Diego Music Awards at Humphreys By The Bay. A night to honor San Diego music.
Oct. 6: Paul Weller at the Observatory North Park. Modfather legend who fronted the Jam.
Oct. 7: IAMX at Casbah. Former frontman for Sneaker Pimps.
Oct. 8: Sham 69 at the Til Two Club. UK punk legends!
Oct. 9: SoundDiego LIVE with Quel Bordel!, 9 Theory, the Bassics and yours truly at Park & Rec; RSVP here to get in on the Belching Beaver Brewery VIP happy hour!
Oct. 10: Ash at the Music Box. Northern Ireland indie/alt rockers from the '90s still killing it.
Oct. 11: CRSSD Festival at Waterfront Park; also on Saturday, October 10. It's an indie/alternative dance party! TV On The Radio and the Flaming Lips to name a few (by the way, enter to win FOUR tickets to CRSSD Festival right here)!
Oct. 12: Wolf Alice, Drenge, Made Violent at the Irenic. Wolf Alice are UK buzzband rockers you don't want to miss.
Oct. 13: Alt-J at Cal Coast Credit Union Open Air Theatre. Quirky UK indie-rockers return to SD.
Oct. 14: Bob Forrest at the Whistle Stop Bar. Front man for Thelonious Monster and the Bicycle Thief backing his new solo album.
Oct. 15: Deafheaven, Tribulation at Casbah. Anti Records just released Deafheaven's new album "New Bermuda": Call it experimental black metal, 'cause you can.
Oct. 16: Dan Deacon, Gary Wilson, Island Boy at Lux Art Institute (Encinitas). This looks like a party!
Oct. 17: Fidlar at the Observatory North Park. "F$%& It Dog, Life's A Risk!" I can't stop listening to their new album, "Too."
Oct. 18: Black Lips, Ariel Pink at the Observatory North Park. Can you say party? P-A-R-T-Y...
Oct. 19: My Morning Jacket at Cal Coast Credit Union Open Air Theatre. MMJ loves SD, make them feel at home.
Oct. 20: Yacht, Larry Gus at Casbah. Yacht's new single is "I Thought The Future Would Be Cooler" -- check it out!
Oct. 21: Eagles of Death Metal at the Belly Up. Rock & roll party!
Oct. 22: Flipper with David Yow, Widows, and Stalins of Sound at Casbah. Flipper with the Jesus Lizard frontman behind the mic.
Oct. 23: Bully at the Hideout. Nashville rockers that touch on '90s grunge.
Oct. 24: Mudhoney, Tar Halos, the Grids at Casbah. Grunge started here...
Oct. 25: The Adicts at Black Box (Tijuana). UK punk legends in TJ!
Oct. 26: Marilyn Manson at House Of Blues. For "the beautiful people."
Oct. 27: DIIV, No Joy, Sunflower Beam at Casbah. DIIV's upcoming shoegaze album "Is The Is Are," out soon on Captured Tracks.
Oct. 28: Shakey Graves at the Observatory North Park. Americana from Austin, Texas.
Oct. 29: Coheed & Cambria at the Observatory North Park, Failure at Music Box or Madonna at Valley View Casino Center. Too many choices!
Oct. 30: Ghost at Observatory North Park. A band shrouded in mystery, and metal!
Oct. 31: No Knife, the Dabbers, Ghetto Blaster at Casbah. '90s-era legends No Knife return for another reunion show.
Thanks for reading, now go see a show and support a local or touring band! Life is better with live music in your life -- and if you see me at a show please ask for your free hug...

Tim Pyles, a longtime local who grew up in La Jolla, is the unofficial mayor of local music and hosts Loudspeaker via 91x every Sunday from 7-10 p.m. He also books local acts at the Casbah, hosts the weekly Anti-Monday League, books/hosts the monthly Maryjane's Underground at the House of Blues and is an entertainment writer for Pacific San Diego Magazine. Check out his website thelocalpyle.com and and follow him on Twitter @thelocalpyle. You can reach him directly here pyleste@yahoo.com