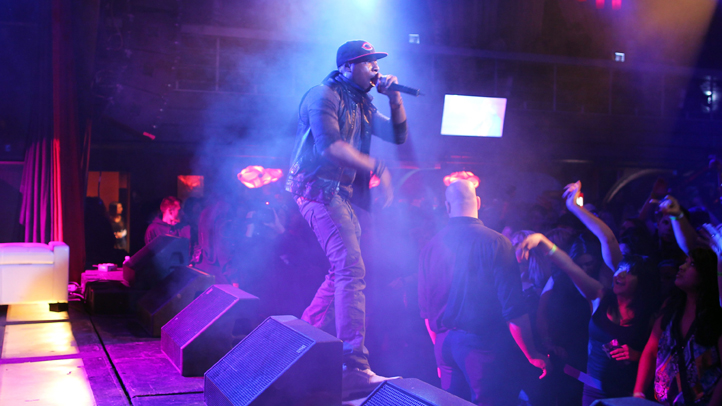 Though it's a Monday, amidst the otherwise silent UCSD campus, Porter's Pub spills activity. More akin in demographic to an eclectic house party, everyone knows someone, but still tics nervously, awaiting something.
Chatting friendly, an unusual enough scene given the mix of patrons, (thirtysomething business types, pink-wristband-wearing, under-21 somethings giggling at the beer garden, swagged-out ladies and their dapper boyfriends, bro packs in pairs high-fiving and a smattering of everyone somewhere in between) all tic nervously.

The opening ska band has played, a DJ has done his thing. It's 11 p.m. and there's still no sign of hip-hop legend, the one and only Brooklyn-ite, Talib Kweli.

Overtaking a De La Soul DJ pick, suddenly a steady bass line cuts in and drums the familiar beat of Jay-Z's "Public Service Announcement:" Kweli takes the mic while simultaneously propelling from an SD-inspired freestyle tribute to the Beastie Boys' "No Sleep Till Brooklyn." At the moment he takes stage, the crowd goes crazy.

Back almost a year and a half after his 2011 House of Blues appearance, sporting a red snapback, the tee-shirt clad Kweli, though casual, demands attention with simple, slick confidence. Far past his early years as an artist, with dark shades on, and a backup band complete with bassist, keyboardist, drums and D.J hanging on his every move, Kweli could indeed be mistaken for a young Jay-Z if not for what makes Kweli, Kweli; his speed.

Ever adept at defying the constraints of traditional linguistics, Kweli blends smoothly. Though his set list at times jumps radically from classics to covers, Kweli delivers diversely. From a J. Dilla tribute to a slow, soft take on Mos Def's classic track "Umi Says," Kweli moves.

Like a midnight slow-jam DJ, Kweli returns to center stage, low-toned and raspy. "So, this is the part of the show where we're a cover band…it's Kweli and the Tail Whiskers, that's us…" he says, giving the crowd a minute to absorb the slow-spoken nonsense. Ever shape-shifting his dialect throughout his set, Kweli's brief but formative stint in experimental theatre is apparent. Like any elite performer, he is well-versed in the sheer raw power of simple principles; speed, delivery and composition.

Now deep into a jazz soul version of the Roots' "You Got Me," which traditionally features Erykah Badu, Kweli covers both male and female parts flawlessly. The frenetic rap icon Kweli is gone, his sunglasses suddenly missing too. Piano keys take over for a soft solo as Kweli steps back into the shadows offstage and sips water while the crowd below sways to the melody.

Suddenly at full momentum, Kweli bounds through the last hour of the set, melting minds with an adaptation of the Beatles' "Eleanor Rigby" that morphs into club banger "Rack City," returns to the signature tune "Hot Thing" and somewhere ends up back at the articulated rhythms that punctuate the quintessential Kweli anthem, "Just to Get By."

Offering no encore, Kweli bounds offstage before his audience regains consciousness, still mesmerized by the complexity of his performance. Jay-Z cues back in thumping as everyone exits, still entranced by the key factor behind Kweli's lasting relevancy.

A man of mystery, Kweli is steady. Kweli is surprising yet simple, an infectious blend of blunt, simple beats and rapid word-play transmitted as if from another dimension. Rare and refined, he is vibrant velocity.