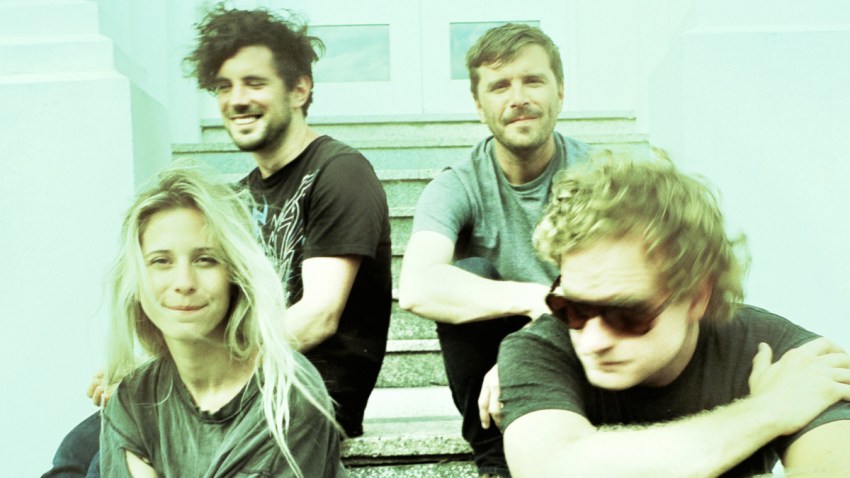 With summer in full swing, what better way to soak up the fun than with the buzzing alt-rockers of Bully and all the supremely awesome waterworks you could imagine? Well, that's exactly what you'll get with the Aug. 20 edition of our SoundDiego Summer Splash concert series at Harrah's Resort SoCal!
Get tickets to SoundDiego Summer Splash at Harrah's Resort SoCal on Aug. 20 with Bully and the Donkeys!
If you've been out to Harrah's, you know they've got all things water completely covered -- with a swim-up bar, a 400-foot lazy river, 21 cabanas, the main pool and eight hot tubs on site. Honestly, there's no way we could even dream of a better spot to throw our summer concert series!
And as you can imagine, it's been going rather swimmingly. Our three other Summer Splash shows have featured alt-rock mainstays the Boxer Rebellion (May 21), infectious indie-rock darlings the Mowgli's (June 18), and the lo-fi masterminds of La Luz. With one final shindig to go, we're capping it all off with a bang: Grunge revivalists Bully headline our Aug. 20 show!
SoundDiego blogger and beloved DJ Robin Roth -- who is emceeing the show -- gushed about the alt-rock band that's been all the buzz since they started kicking out the jams in 2013.
"The Nashville-based Bully dropped their debut album in June of last year," Roth said, "And they actually recorded it at Steve Albini's Electrical Audio Studio, where frontwoman Alicia Bognanno used to intern. She sings, plays guitar, writes all the songs, and also records and engineers them as well! A great role model for young women: Strong, independent and smart."
And who did we tap to open the show? None other than beloved San Diego kings of chill-out soul/pop/rock, the Donkeys!
"[The Donkeys] have been around since 2004 and they have a loyal fanbase in San Diego and beyond," Roth told us. "They won a San Diego Music Award for Best Rock Band in 2012, and even had one of their songs featured on the TV show 'Lost.' When you think of the Donkeys, sun, sand and driving with the top down in summertime all come to mind. If you don't know about 'em yet, they're gonna be your new favorite band -- or a band you wish you were in."
The hometown boys have been a two-time inductee in our SoundDiego Record Club, and we've also been lucky enough to feature them at a Halloween edition of SoundDiego LIVE where they all dressed up like mummies and blew our collective minds! If you've ever seen them Donkeys boys, you know their shows are unforgettable.
With tickets set at $30, you get to see two incredible bands in one of California's premier music venues with full access to their pool complex -- and in a summer setting that simply can't be beat. Better yet, if use the promo code SOUNDDIEGO when you're purchasing tickets, they're only $20!
Get tickets to SoundDiego Summer Splash at Harrah's Resort SoCal on Aug. 20 with Bully and the Donkeys!
And since we know some of you will want to make a stay-cation out of it, Harrah's Resort SoCal has been kind enough to offer a special room deal that includes a $50 resort credit and two free tickets to the show! Hey now! Head to HarrahsSoCal.com to snag your room(s) with the promo code SOUND!
By the way, if you're round-tripping on Saturday night, we'll also have a FREE party bus picking up showgoers at the Pacific Beach Staples at 6 p.m. on the day of the show to get y'all to Harrah's and back! Talk about a win-win.
Splash it up!