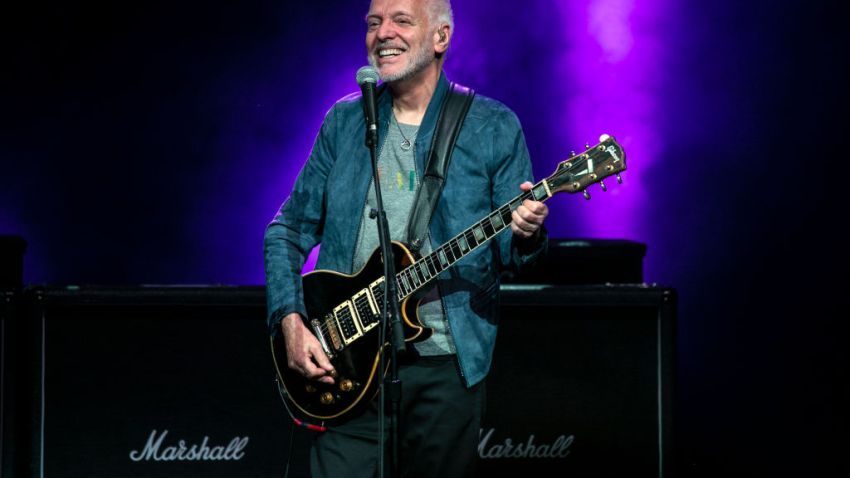 My favorite movie of all time is "Reality Bites." It captures this era in the early '90s that was exagerrated yet so real and there's this moment when Ben Stiller's character is sitting in the back of his convertible with Winona Ryder's character, and he says, "How have you never heard of 'Frampton Comes Alive'? This album changed my life!" This moment is meant to show us their age disparity and their very different stations in life -- he, an experienced older business exec, while she's fresh out of college with little life direction. But it never fails to make me laugh, because in reality, were she a little older, she'd probably feel the same about Frampton. So when Peter Frampton announced that this would be his final no-return farewell tour, the media shrugged "yeah right," and then he announced that he's suffering from inclusion body myositis, a degenerative muscle disease, and the media finally believed him. All I'm saying, is if "Frampton Comes Alive" or any of his other numerous records meant anything to you in your life, this is most definitely your last chance to catch him live. Around town, State to State return to the Casbah, Grieves brings hip-hop to Soda Bar, and Banks plays SOMA.
Wednesday, Oct. 2:
Peter Frampton, Julian Frampton, Jason Bonham's Led Zeppelin Evening @ Cal Coast Credit Union Open Air Theatre, SDSU
State to State, Hollywood Values, Tigros @ Casbah
Grieves, Mouse Powell, Riston Diggs, Bodie @ Soda Bar
Ziggy Alberts, Emily Brimlow @ Belly Up
Banks, Kevin Garrett @ SOMA
Small Talk, All Hype, Lost Dakota @ Space
Raveena @ The Stage Room, UCSD (fka Porter's Pub)
Gerald Clayton Quartet Jazz @ TSRI
Avatar, '68, the Inspector Cluzo @ The Observatory North Park
Instant Crush with Nastea and guests @ The Office
Chick Corea Trilogy @ Balboa Theatre
Year of the Dead Bird, Tardigrade, INUS @ Bar Pink (9pm)
Heavy Metal Bingo @ Bar Pink (free, 7-9 p.m.)
Open Oscillator: Open Mic for Electronics @ Whistle Stop
David Burnham @ California Center for the Arts Escondido
What the Sound Presents: L. Martin (of the Walters) @ The Che Cafe
mxmtoon, Alexander 23 @ Voodoo Room, House of Blues
Charlie Arbelaez @ Plaza Bar, Westgate Hotel
Stiff Little Fingers, the Avengers @ House of Blues
Kevin Erksine, Colon Jones, Julianna Zachariou, Mario Luma @ The Holding Company
Psyclon Nine, Striplicker, Justin Symbol @ Brick by Brick
Uptown Rhythm Makers @ Tio Leo's
Clay Colton @ Wildwood Crossing
Boss Jazz with Jason Hanna & Friends @ Riviera Supper Club & Turquoise Room
Challenged Athletes Foundation Benefit Concert ft. Sully @ Music Box
Gilbert Castellanos' Young Lions Series & Jazz Jam @ Panama 66
Dance Klassique with Joe Pea, Ryan Bauer, Gomez @ Blonde
Open Mic Night @ Pour House
Club Kingston presents: Unsteady, DJ Carlos Culture @ Winston's
Open Mic with Jefferson Jay @ Winston's (6-9 p.m.)
Tradewinds @ Humphreys Backstage Live
Industry 10 Year Anniversary @ Sidebar
Open Mic/Open Jam @ 710 Beach Club
Rosemary Bystrak is the publicist for the Casbah and writes about the San Diego music scene, events and general musings about life in San Diego on San Diego: Dialed In. Follow her updates on Twitter or contact her directly.