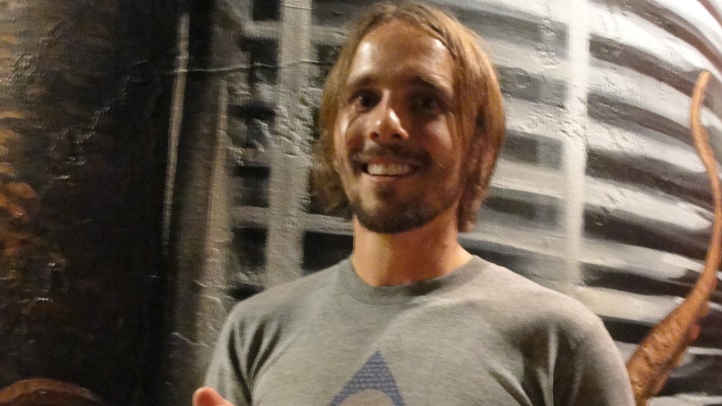 For a long time, I've been a fan of Matt Curreri. I've seen him in various projects, from the Ex-Friends to Mananaland to a whole bunch of other stuff before that, but essentially it all comes down to a local musician who writes great songs. He's reassembled a band to join him tonight at the Belly Up, and if you're in the area, you should swing by and give him a listen. If you're south, Soda Bar has an all-local lineup headlined by the Beautiful View. I'll probably head over to the first of two nights of Thievery Corporation, with AM & Shawn Lee opening the show.
Wednesday, Sept. 7:
Matt Curreri, Yovee, Rhythm and Bluebirds @ Belly Up
Thievery Corporation, AM & Shawn Lee @ House of Blues -- read our T.C. preview here
The Beautiful View, Slpwlkrs, Roswell That Ends Well @ Soda Bar
Red Hot Wednesday, with DJ Claire @ Bar Pink
Ancient Crux, Radiation City, Odd Shapes, Kids @ Tin Can
Gilbert Castellanos with the New Latin Jazz Quintet @ El Camino
Live Band Karaoke, featuring Rock Out Karaoke @ House of Blues
Eligh @ U-31
Stan Zebeck @ Hensley's Flying Elephant
Maraca @ Anthology
Lee MacDougal @ Humphreys Backstage Live
Corey Cottrell, the Seized, the Joint Effort @ Ruby Room
Bill McGee Blues Band @ Patrick's Gaslamp Pub
Bastard Lovechild of Rock & Roll @ The Saloon (Encinitas)
RIPS Ennt + MVR present Wreck Shop Wednesday, with Mark Miller, East of Sweden, SoundDrug @ The Office
Fuzzy @ Croce's
Frankie Dee and the Funk Natra Band @ The Kraken
Lauren Scheff @ Riviera Supper Club
Wednesday Shakedown @ Henry's Pub
Club Kingston, with Shoreline Rootz, DJ Carlos Culture @ Winston's
Missy Andersen @ Marble Room
Northstar @ Coyote Bar & Grill
Evolution @ Club Kadan
Lady Dottie and the Diamonds @ Gallagher's
SpeakHer @ Kava Lounge
Firehouse Swing Night @ Queen Bee's
Blue 44 @ The V Lounge Viejas Casino
Rosemary Bystrak writes about the San Diego music scene, events and general musings about life in San Diego on San Diego: Dialed In. She does social media for the Casbah, books at West Coast Tavern and is trying her hand at band management. Follow her updates on Twitter or contact her directly.