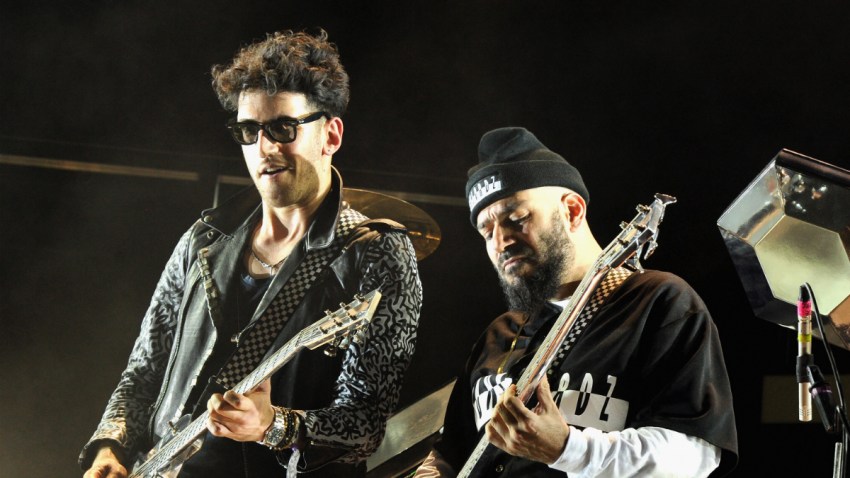 A few years back, I was invited to go to Outside Lands in San Francisco. There were dozens of amazing bands the year I went -- Arctic Monkeys, Jagwar Ma, Death Cab For Cutie, Haim -- but the most memorable was Chromeo. I guess I'd always had this idea that they were just DJs and it wouldn't really be my thing, but these guys are amazing performers. They've got live instruments along with all of the laptops and effects that you'd expect with dance music, but they also totally rock out. Today, they're playing free after the last race at the Del Mar Racetrack and I can only imagine how amazing it will be. After that, head to the Belly Up for a more chill vibe with Skye & Ross of Morcheeba. If you're in the central SD area, Casbah has Punk Rock Karaoke, which is a total blast, Awesome Fest night two goes down at Soda Bar and the Hideout (and the Office and U-31 in the early evening), and Ja Rule and Ashanti play a sold out show at Observatory.
Saturday, Sept. 3:
Chromeo @ Summer Concert Series, Del Mar Racetrack
Skye & Ross from Morcheeba, Earth Moon Earth @ Belly Up
Punk Rock Karaoke, Cruz Radical, Johnny Madcap & the Distractions @ Casbah
Awesome Fest 10: Ash Williams, Caffiends, Madison Bloodbath, Great Apes, Turkish Techno, Shang-A-Lang @ U-31
Awesome Fest 10: Crow Baby, Winter Break, Dyke Drama, Shellshag, Underground Railroad to Candyland, RVIVR @ The Office
Awesome Fest 10: Post/Boredom, Bad Future, the Heartaches, the Fur Coats, Low Culture, Toys That Kill, the Arrivals @ The Hideout
Awesome Fest 10: Hermanas Y Hermanas, the Maxies, Daydream, Nato Coles & the Blue Diamond Band, DFMK, Western Settings, Red City Radio @ Soda Bar
Ja Rule and Ashanti @ Observatory North Park (sold out)
No Mames Weeekend feat. Zombie Barbie, Gone Baby Gone, the Mice, AIDS Cop, Russian Tremors @ Ken Club
Nena Anderson @ Bar Pink
The Memories, the Dream Ride, the Soaks, DJ Ryan Hand @ Blonde
The Young Wild, Mainland, War Girl @ Music Box
LED Presents Slander @ Quartyard
Future Standing feat. Noodles @ House of Blues
Lola Demure's Burlesque & Variety Show @ Voodoo Room, House of Blues
Nothingful, Son of Radul, Crow Squak, Bantam Feather @ The Bancroft
Tedeschi Trucks Band, Nicki Bluhm & the Gramblers @ Copley Symphony Hall
Gloomsday, Duping the Public @ Tower Bar
Best of My Love: A Tribute to the Eagles @ Winston's (5 p.m.)
Tee Pee Records' West Coast Showcase with Death Alley, Volcano, Ocelot, Petyr, Mother @ Til-Two Club
Popvinyl @ V Lounge, Viejas Casino
Rising Star @ The Park, Viejas Casino
Abner, Fuzz Huzzi @ Lestat's
Lindsay White, Noelle Pederson @ Java Joe's
Fighting Sides, the Dangerfield, Stick Bitz, Headstone @ Che Cafe
Sika, Melvus @ 710 Beach Club
Sabor Caliente @ Tio Leo's
Kimberly Jackson @ Humphreys Backstage Live (5 p.m.)
Wildside @ Humphreys Backstage Live (9 p.m.)
Kronic @ Fluxx
Eric D-Lux, DJ Five @ Omnia
Datsik @ Bassmnt
Mstrkrft @ Bang Bang
Ascension: The Best in Dark Underground Music @ Kava Lounge
Rockstar Saturdays @ Henry's
Rosemary Bystrak is the publicist for the Casbah, the content manager for DoSD, and writes about the San Diego music scene, events and general musings about life in San Diego on San Diego: Dialed In. Follow her updates on Twitter or contact her directly.