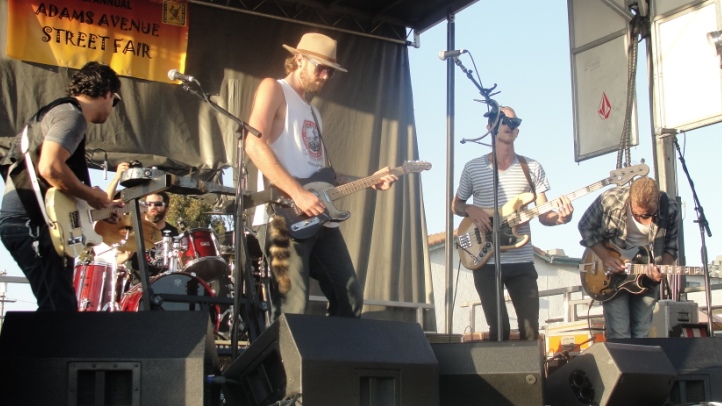 There aren't many nights when I don't have a solid plan for live music, but tonight I feel like I'll go where the wind takes me. It's Anti-Monday League at the Casbah, and while I'm not familiar with Black Dragon River, I love Privet's album and haven't had the chance to catch them live yet, so that seems like a solid option. I've been crazy in love with the Blackout Party's forthcoming record and after seeing them at the Adams Avenue Street Fair on Saturday, Bar Pink is a pretty great option, too. Over at Soda Bar, the Reverend Peyton's Big Damn Band promise to bring a lively, drink-swilling good time as they always do, too. Decisions, decisions.
Monday Sept. 26:
The Reverend Peyton's Big Damn Band, Austin Lucas & the Bold Party, the Screamin Yeehaws @ Soda Bar
Anti-Monday League presents Black Dragon River, Privet, Social Club @ Casbah
Edgar's Going Away Party, featuring Blackout Party, Low Volts @ Bar Pink
Mountains, White Shrine, Smiles Davis @ Tin Can
Richie Spice, J.A.M. Kwest, DJ Carlos Culture @ Belly Up
Michael McDonald, Boz Scaggs @ Humphrey's Concerts By the Bay
The Goddamn Gallows, Jayke Orvis, the Strikers, James Hunnicutt. Big Buck Hunter & the Pros @ The Shakedown Bar
Dirty Mondays, with DJ Gabe Vega @ The Saloon
April Ventura @ Riviera Supper Club
Midnight Oil Acoustic Series, with Steve Welty @ Ruby Room
Grilled Funk Shop, DJ Riddles @ Eleven
Rockola @ Humphreys Backstage Live
Mellow Mondays, featuring DJ Mello D & Tannyr Denby @ House of Blues
Open Mic @ Lestat's
The Accidentals @ Tiki House
Off the Clock Industry Night @ Henry's Pub
Doug Allen @ The Kraken
Lady Dottie & the Diamonds @ Patrick's Gaslamp Pub
Electric Waste Band @ Winston's
Monday Night Mic @ Club Kadan
Adam Gimbel's Musical Pursuit @ Whistle Stop
Three Chord Justice @ Bar Leucadian
Dave Scott & Monsoon Jazz @ Croce's
Karaoke @ Coyote Bar & Grill
Rosemary Bystrak writes about the San Diego music scene, events and general musings about life in San Diego on San Diego: Dialed In. She does social media for the Casbah, books at West Coast Tavern, and is trying her hand at band management. Follow her updates on Twitter or contact her directly.