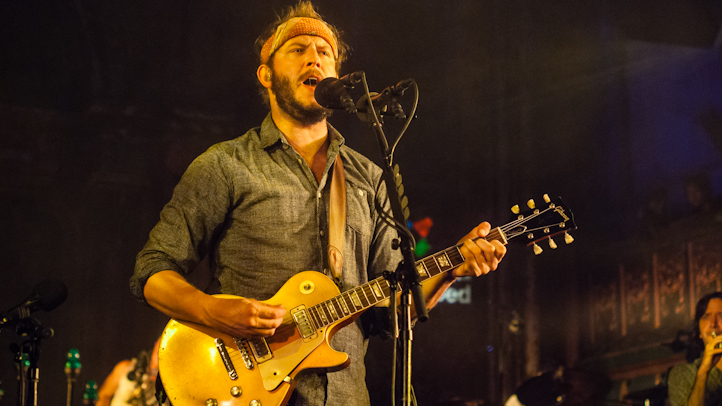 I cannot lie. I'm going to be experiencing some serious FOMO tonight as Bon Iver comes back to town for the first time since their two-night stand at Spreckels in 2011. I try to rationalize that I'm not the same person I was five years ago; that I'm into different music than I was into five years ago; that me and Justin Vernon's tastes have gone in different directions in five years -- but I'm not going to pretend it won't be hard wondering if I'm missing the best show of the year or if I was wise to save my dinero. Regardless, I'll be having a grand ol' time at the Irenic catching Preoccupations, the band formerly called Viet Cong until they acknowledged that it was a painful trigger for some and cultural appropriation isn't really that cool. Around town, you can see a pretty awesome show with Kongos and Joy Formidable at Music Box, Pleasure Fix is at Casbah, VanLadyLove and Jackson Price are at the Hideout, and Maceo Parker performs an evening at the Belly Up.
Wednesday, Oct. 26:
Casbah presents Bon Iver, Julianna Barwick @ Jacobs Music Center at Symphony Hall (SOLD OUT)
Soda Bar + Casbah Presents Preoccupations, Methyl Ethel @ The Irenic
Kongos, the Joy Formidable @ Music Box
Casbah presents Pleasure Fix, Flames of Durga, Big Bloom @ Casbah
Vanladylove, Jackson Price Band @ The Hideout
Fair@44 Grand Opening @ El Cajon Blvd & 44th St
The Moves Collective @ OB Farmers Market
Maceo Parker @ Belly Up
Abrasive Wheels, Revolt Chix, Sculpins, Slaughter Boys @ Soda Bar
Terry Bozzio & the largest tuned drum & percussion set in the world @ Dizzy's
Mid-Week Boogie with DJ L @ Bar Pink
Gilbert Castellanos Young Lions Series & Jazz Jam @ Panama 66
Paramore Live Tribute & Jason Stanley's Birthday Bash @ The Office
Retrograde DJs @ Whistle Stop
Brahms Sextets @ La Jolla Athenaeum
Club Kingston - Psydecar and DJ Carlos Culture @ Winston's
ArtPower Presents: The Jones Family Singers @ The Loft, UCSD
Rasputina, Vita & the Woolf @ House of Blues
Breakthru Entertainment @ Voodoo Room, House of Blues
Veronica May @ Java Joe's
Karaoke with Cici @ The Bancroft
Tropical Wednesday with DJ Mo Lyon @ U-31
Open Mic with Jefferson Jay @ Winston's (6-9 p.m.)
Lydia Wilts, Scarlet Checkers the Contortionist @ Tower Bar
Kimberly Jackson @ Humphreys Backstage Live
WTF Wednesday @ El Dorado
Family Beatdown @ Kava Lounge
Mindsail, Swamp Ritual, Mario Esteban & the Blessed Hellhounds @ The Merrow
Gino & The Lone Gunmen @ Tio Leo's
Open Mic/Open Jam @ 710 Beach Club
Ride The Mule @ Henry's Pub
Rosemary Bystrak is the publicist for the Casbah, the content manager for DoSD, and writes about the San Diego music scene, events and general musings about life in San Diego on San Diego: Dialed In. Follow her updates on Twitter or contact her directly.