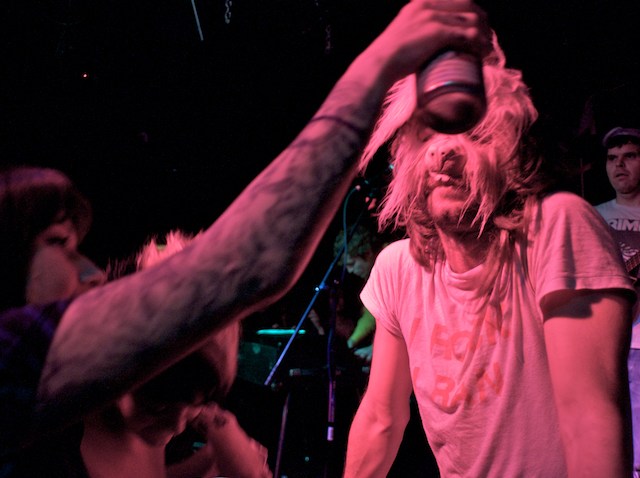 Monday night brings a lot of fun to your earholes. The Office hosts the Natives, and Belly Up is sold out with Medeleine Peyroux. The Vibrators get down and dirty at Soda Bar, while Marilyn Manson keeps it weird at House of Blues. Of all of those options, however, Nobunny takes the cake for me. Often performing in just his iconic mask and underwear, Nobunny stays animated from the first to last note and fires up the crowd no matter what room or stage he plays, and no doubt Monday night at the Casbah will be a blast. October is the month of massive touring, and it is rapidly coming to an end, so live it up while you can -- even on a Monday.
Monday, Oct. 26:
Nobunny, the Kabbs, Kooties @ Casbah
Marilyn Manson, September Mourning @ House of Blues
The Vibrators, Peacers, Elisa Ambrogio @ Soda Bar
Madeleine Peyroux Trio @ Belly Up (SOLD OUT)
Soultry Monday with Tori Roze & the Hot Mess @ Bar Pink
Mirror Mondaze with the Natives, Geneva Bedlam, Ayahuasca, DJ Mike Delgado @ The Office
The Beta Collected, Parade of Horribles, the Roxanne Wars, Drew Smith, DJ Admiral Atlas @ Tower Bar
The Foreign Resort, Light FM, the Slashes, Moonpool @ The Merrow
Mango Habanero, Hotstop, David Maldonado @ Tin Roof
Nina Francis and Leonard Patton @ Croce's Park West
Velvet Cafe @ Alexander's (30th & Upas)
Mic Check Mondays with Lit One, DJ Dub Fyah and more @ Gallagher's
Metal Mondays @ Brick by Brick
Missy Anderson @ Humphrey's Backstage Live
Wheels of the Industry @ Live Wire
Open Mic @ Lestat's
Electric Waste Band @ Winston's
Acoustic Night/Industry Night @ Henry's Pub
Industry Night with @ U-31
Industry and local night with DJ RoyAle and friends @ 710 Beach Club
Rosemary Bystrak is the publicist for the Casbah and writes about the San Diego music scene, events and general musings about life in San Diego on San Diego: Dialed In. Follow her updates on Twitter or contact her directly.