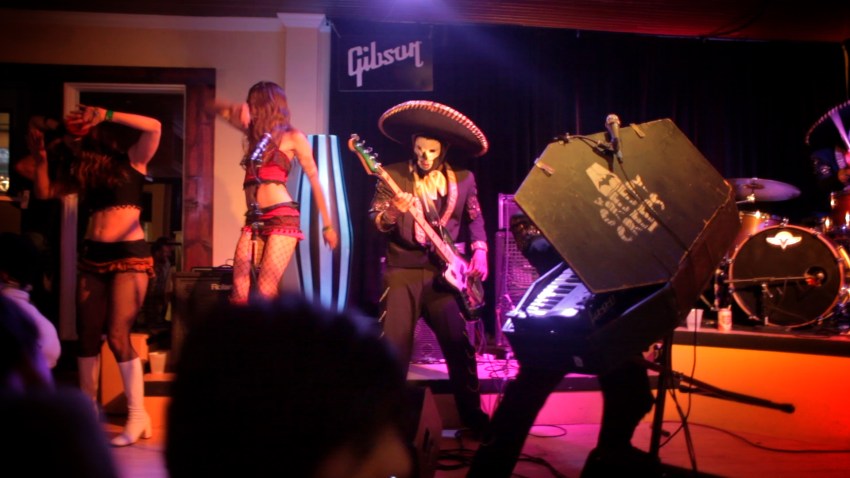 It's one of the most celebrated times of the year here as San Diego Beer Week kicks off with their annual Guild Fest at the Port Pavilion. With beer week comes a ton of fun events all over town, including tonight's sold out Fall Brewing Anniversary party at the Casbah with the Creepy Creeps, Schizophonics and more. If you missed out on tickets, check out punk vets Sum 41 at House of Blues in the big room or Jared & the Mill in the Voodoo Room. Atlantic Recording artist Max Frost plays a show at the Irenic, the Cave Singers are playing their rescheduled show at Soda Bar and So Many Wizards play at Blonde. That is quite a few choices to make your Saturday night rule.
Saturday, Nov. 5:
Fall Brewing Two Year Anniversary w/ the Creepy Creeps, Schizophonics, MC5 Revue, the Widows, Jon Cougar Concentration Camp @ Casbah
Sum 41, Senses Fail, As It Is @ House of Blues
Jared & the Mill, Edison @ Voodoo Room, House of Blues
Max Frost, the Young Wild, Sinclair @ The Irenic
The Cave Singers, Chris Cheveyo (of Rose Windows), DJ Andrew McGranahan @ Soda Bar
Ministry of Truth, Infant Addicts, Skaal, Bossfight, Social Spit, Filner Headlock, Dum Dum Boys, Revolt-Chix @ Soda Bar (12 p.m.)
So Many Wizards, Winter, Gary Wilson, O Paradise, DJ Ryan Hand @ Blonde
Katt Williams: Conspiracy Theory @ Viejas Arena, SDSU
SoCal Food & Brew Fest @ Ramona Mainstage
Tainted Love, DJ Scotto @ Belly Up
In Your Neighborhood Block Party w/ the Art Dealers, Lightning Cola, Caroline, Citrus & Katie, Secret Lynx, Adult Films, Heather Nation, PB & Jam @ The Pour House Oceanside (Free, 12:30 p.m.)
CTA feat. Danny Seraphine & Bill Champlin performing music of Chicago @ Music Box
Led Kaapana @ AMSD, Sweetwater Union High School
Robin Adler & Dave Blackburn Celebrate Joni Mitchell @ Dizzy's
Stone Horse, Shell Shock, DJ ManCat @ The Holding Company 1502
Surefire Soul Ensemble (Record Release) @ The Hideout
Born Blind, Giver, Remain in Vain @ The Bancroft
The Wonder Years, Real Friends, Knuckle Puck, Moose Blood, Seaway @ Soma
World of Dance San Diego 2016 @ California Center for the Arts, Escondido
The Glory of Venice @ California Center for the Arts, Escondido
Strictly Business w/ DJs Edroc & KanyeAsada @ The Office
Hot Buttered Rum, Moves Collective @ Winston's
Pat Todd & the Rankoutsiders, Permanent Makeup, Dime by Dime @ Til-Two Club
Diamond Head, Symbolic, the Bastard Saints, Dolan Brotherhood @ Brick by Brick
HOME the Band, Tony P @ Lestat's
Casey Hensley @ Java Joe's
TAUK w/ Bomb Squad @ The Loft, UCSD
Adult Films, Cameron Royce, Logan & Lucille, Cosmics @ Che Cafe
Desert Suns, American Killers, Pharlee @ The Merrow
"Brazilian Night Vibe" Raggabond, Jambless @ 710 Beach Club
James Kruk & Graceland @ Tio Leo's
First Friday Club @ Humphreys Backstage Live (2 p.m.)
The Reflectors @ Humphreys Backstage Live (5 p.m.)
Detroit Underground @ Humphreys Backstage Live (9 p.m.)
Koko and Bayati @ Fluxx
Party Quake @ V Lounge, Viejas
DJ PolitiK @ Omnia
Black Tiger Sex Machine @ Bassmnt
Tough Love @ Bang Bang
Ascension w/ Robin Roth @ Kava Lounge
Rockstar Saturdays @ Henry's
Rosemary Bystrak is the publicist for the Casbah and writes about the San Diego music scene, events and general musings about life in San Diego on San Diego: Dialed In. Follow her updates on Twitter or contact her directly.