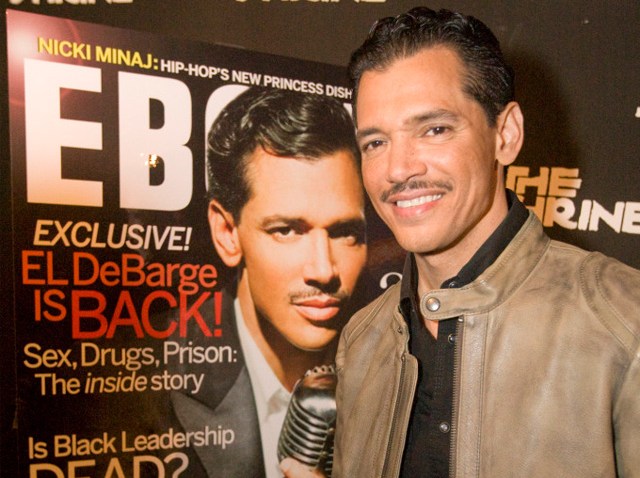 It is really easy to just put on your fat pants and lounge around eating Thanksgiving leftovers all weekend, but there are plenty of shows that should motivate you to get up off of that couch to enjoy some live music, with great choices like Allen Stone at House of Blues or a second night of X at the Casbah. I have to admit I got a bit excited when I heard that El DeBarge was coming to the Music Box because those tunes were definitely my jam when I was a little girl, but I'm sure there are plenty of San Diegans who felt the same upon hearing Sublime With Rome is playing after the races at the track to close out the Bing Crosby fall racing season. For other choices, hit up Wayward Sons at Belly Up, the return of Diablo Dimes at Bar Pink, an early show with No Parents at the Irenic or get out your Naked Aggression at Soda Bar. Party on, San Diego. Party on.
Saturday, Nov. 28:
X, Mike Watt and the Secondmen @ Casbah
Allen Stone, Bernhoft @ House of Blues
El DeBarge @ Music Box
No Parents, Plague Vendor, Shady Francos @ The Irenic (CANCELED)
Sublime with Rome @ Del Mar Racetrack
Naked Aggression, Systematic Abuse, Sculpins, Midnight Eagle @ Soda Bar
Diablo Dime, Ypsitucky @ Bar Pink
Wayward Sons, Way Cool Jr.@ Belly Up
Wild Moth, Quali, Causers @ The Hideout
DJ Claire @ Whistle Stop (5 p.m.)
Booty Bassment @ Whistle Stop
Redder Moon, Astral Touch, Die Mißbildungen Des Menschen @ The Balboa
The Nutcracker Ballet presented by SD Academy of Ballet @ California Center For the Arts, Escondido
Festival of Trees @ California Center For The Arts, Escondido
Wilderness Dream @ Tower Bar
Srangely Strange @ Winston's (5-8 p.m.)
Ocean Boogie: OB's Hottest Dance Party @ Winston's
Sleepwalking (Lowrider Oldies and Old School Funk) @ Til-Two Club
Love Henry, Fanny & the Atta Boys, Trailduster @ The Black Cat
John Hull, Will Kelly, Savannah Philyaw @ Lestat's
Bushwalla and Friends @ Java Joe's
Klatch @ Bang Bang
DJ Vice @ Omnia
DJ Politik @ Parq
F--- the Facts, Doesn't Matter, Sanata Clause, Cave Bastard @ The Merrow
Club Therapy - The Darks of Heaven @ The Bancroft
The Profit Heist @ Tio Leo's
Patrick Berrogain @ Croce's Park West (noon)
Eve Selis & Friends @ Croce's Park West (7 p.m.)
The Reflectors @ Humphrey's Backstage Live (5 p.m.)
Rising Star @ Humphrey's Backstage Live (9 p.m.)
Brett Bodley @ Fluxx
S.H.A.F.T. @ Kava Lounge\
Funk's Most Wanted @ Gallagher's Irish Pub
Rock Out Karaoke @ 710 Beach Club
Pump'd @ Spin
Rosemary Bystrak is the publicist for the Casbah and writes about the San Diego music scene, events and general musings about life in San Diego on San Diego: Dialed In. Follow her updates on Twitter or contact her directly.