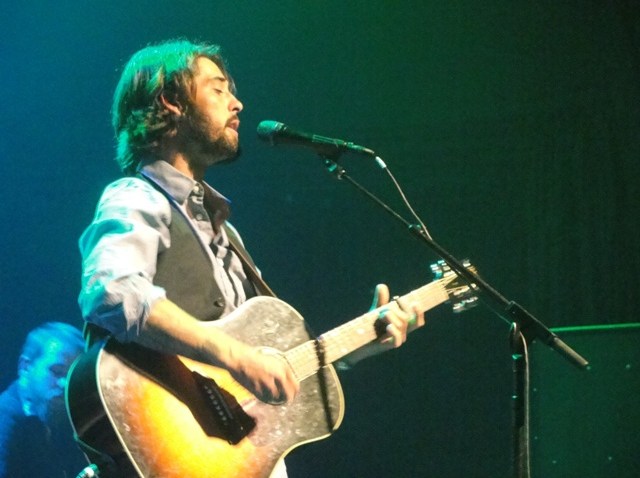 Oh, man. The Belly Up wins Thursday and Friday with back-to-back sold-out nights of the incredible singer/songwriter Ryan Bingham, who packs in a double bunch by bringing Jamestown Revival as support. Take a moment to shed a tear if you didn't grab tickets, but don't let it stop you from making other plans. In possibly the weirdest tour pairing ever, the Cult and Primal Scream appear together at the House of Blues. Elsewhere, you can catch local champs Weatherbox at the Che Cafe, or rock out with Blackbird Raum at the Til Two. We all know my true heart lies with indie, and label Barsuk never disappoints, so neither should Trails and Ways, with their sweet female harmonies and groovy synth sounds. They will be appearing at the Casbah.
Thursday, Nov. 19:
Ryan Bingham, Jamestown Revival, Gold Star @ Belly Up (sold out)
The Cult, Primal Scream @ House of Blues
Trails and Ways, the Verigolds, Bad and the Ugly @ Casbah (watch our Spotlight segment on Bad and the Ugly here)
Weatherbox, State Champion, Pretend, Little Heroine @ Che Cafe
Blackbird Raum, Dirty Kid Discount, Sledding With Tigers, Bogsey @ Til Two Club
Nombe, 9 Theory @ Soda Bar
DJ Ikah Love @ Bar Pink
Ten Strings and a Goat Skin @ AMSD
(Nicey) Nice World @ Black Cat
The Dirty Knobs, with Mike Campbell, Jason Sinay, Matt Laug, Lance Morrison @ Music Box
Scott Whitfield & SDSU Jazz Ensemble @ Smith Recital Hall, SDSU
Tikitronic, Blue Sky Flu @ Sycamore Den
Yob, Black Cobra, Deep Sea Thunder Beast @ Brick By Brick
Jeff Dewine, Amanda Cogan, Born on a Hill @ Lestat's
Gregory Page @ Java Joe's
Eric Bellinger @ House of Blues' Voodoo Room
Heather Nation Band, Ghost Lit Kingdom, the Wild Fires @ The Merrow
DarkWaveGarden @ The Bancroft
Clay Colton Duo @ Croce's Park West
Bayou Bros @ Humphreys Backstage Live
Lostboycrow @ The Loft
Open Jam Session @ Winston's (6-9 p.m.)
Luminaries, Atlantis Rizing, Kiyoshi, Seancy @ Winston's
Tommy Trash @ Omnia
DallasK @ Parq
Rock Out Karaoke @ Tin Roof
Astrojump, Kill Quanti DJs @ Whistle Stop
Acid Varsity @ Kava Lounge
Missy Anderson @ Tio Leo's
The Dirty Work @ Boar Cross'n
Liquid Courage Campaign @ 710 Beach Club
Rosemary Bystrak is the publicist for the Casbah and writes about the San Diego music scene, events and general musings about life in San Diego on San Diego: Dialed In. Follow her updates on Twitter or contact her directly.