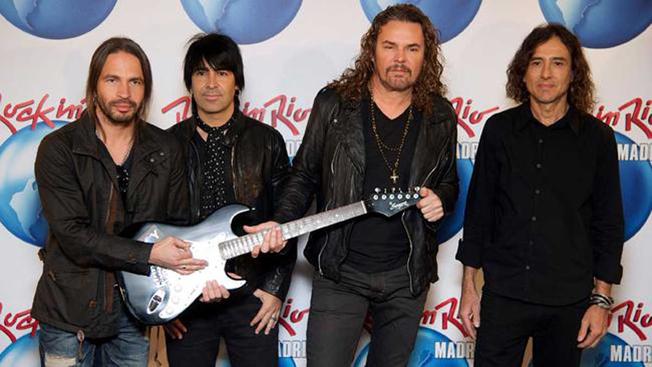 There are some pretty spectacular options for live music this Friday night in San Diego, from singer-songwriter William Fitzsimmons at the Casbah to Roger Clyne at the Belly Up or Trash Talk at Soda Bar, but let's focus on tonight's big show. It was just a few short months ago that Maná came through town, and as one of the most famous and beloved bands among Spanish-speaking cultures, they were hopeful just a few months ago, encouraging the vote of Latin-Americans. I imagine that while the music will be amazing, the messaging might be a little more dire, that audiences shouldn't back down and accept negative consequences from the presidential election. Or perhaps, this show too, will offer hope, that swaths of people are strong and persistent and can overcome challenges and adversity. Whatever the case may be, you can be sure that the adoring fans of Maná will pack Viejas Arena for the second time around this year.
Friday, Nov. 18:
Mana: Latino Power Tour 2016 @ Viejas Arena, SDSU
William Fitzsimmons, Laura Burhenn (of the Mynabirds) @ Casbah
Normandie Wilson & the Joyelles, Saba, Mittens @ Bar Pink
Roger Clyne & the Peacemakers, Los Beautiful Beast @ Belly Up
Hopsin, Joyner Lucas, Token @ The Observatory North Park
Tombs, Wolvhammer, Gravespell, Deep Sea Thunder Beast @ The Merrow
Trash Talk, Antwon, Black Noise @ Soda Bar
Hed PE, Reason To Rebel, 1001 @ The Hideout
Queensrÿche, Armored Saint, Midnight Eternal @ House of Blues
Dave Matthews Experience with Stepping Feet @ Music Box
Midnight Track, Roman Watchdogs, Punch Card @ Tower Bar
Beyond The Score: Dvorak Symphony No. 9: Whose World? @ Jacobs Music Center at Symphony Hall
The Spinners @ Sycuan Casino
The Grand Artique presents Dirtwire @ Quartyard
The Zeros @ The Industry
F---in' in the Bushes @ Whistle Stop
Euphoria Brass Band Live @ Park & Rec
The Routine, DJ Nicholas Crates @ The Holding Company 1502
Nina Francis, Lady Rogo, Heather Nation @ Java Joe's
Live Band Karaoke @ Voodoo Room, House of Blues
Jesse & Joy @ Balboa Theatre
The Sound of Music @ San Diego Civic Theatre
Dan Martin @ The Bancroft
Approaching Fiction, Brave Native, Poppy's Field @ 710 Beach Club
Joey Harris & the Mentals, Where's Willis? @ Black Cat Bar
Funks Most Wanted @ Tio Leo's
Watsky, Witt Lowry, Daye Jack, Chukwudi Hodge @ SOMA
Fred Benedetti & George Svoboda @ Dizzy's
The Reflectors @ Humphrey's Backstage Live (5 p.m.)
Detroit Underground @ Humphrey's Backstage Live (9 p.m.)
Atomic Groove @ Belly Up (Happy Hour 5 p.m.)
The Floozies @ Winston's
'80s Night with DJ Viejo Lowbo @ Til-Two Club
Boulevard Market @ El Cajon & Kansas
Pop Vinyl @ V Lounge, Viejas Entertainment
Miles @ Fluxx
Chad Lada Duo @ Tin Roof (6 p.m.)
Cassie B Project @ Tin Roof (9:30 p.m.)
Figure and Protohype @ Bassmnt
Jeremy Olander @ Bang Bang
Carnage @ Omnia
Lee Foss @ Spin
Goodtimes @ Henry's Pub
Sapient, Snap Murphy @ Kava Lounge
Club Musae @ Boar Cross'n
Rosemary Bystrak is the publicist for the Casbah and writes about the San Diego music scene, events and general musings about life in San Diego on San Diego: Dialed In. Follow her updates on Twitter or contact her directly.