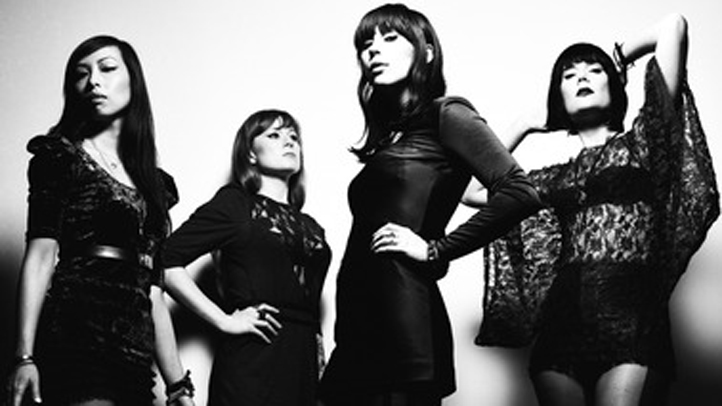 The Dum Dum Girls are back in townm and you're not going to want to miss them. It's been a while since Dee Dee (aka, Kristen Gundred) has been in town, and she always certainly blows up the stage with a killer performance. Plus, it's easy to be loyal to the former San Diegan, even if she no longer considers our city her home. There are other shows in town on Wednesday as well, but I'm just gonna cash in my chips and tell you that the Belly Up is the place to be. You can thank me later.
Wednesday, May 16:
The Palace Ballroom, Noel Jordan, Barbarian @ Casbah
Craft Spells, Tropical Popsicle, Pilots @ The Loft
Silian Rail, Weatherbox, Manuok @ Soda Bar
Stevie & the Hi-Stax @ Bar Pink
The Lumps, the Sceptors, Absolut S---, It's a Trap, Justin Rodriguez @ Tin Can
KPRI presents the Green Flash Concert Series, featuring Eve Selis @ Birch Aquarium @ Scripps
Loose Ends, featuring Jane Eugene Reunion Tour @ Anthology (7:30 p.m., 9:30 p.m.)
Big Shot Reub & the Reloaders, Trickbag, Melly Frances & the Distilled Spirits @ The Griffin
Misspent Warhead Premise, 2 Bit Radio, the Hoons, Heroes & Zeroes, Hanne Kolsto @ Eleven
Brothers in a Bind @ Riviera Supper Club
Club Kingston, with Tribal Theory,Tribe of Kings, DJ Carlos Culture @ Winston's
Wreck Shop Wednesdays @ The Office
Backwater Blues Band @ Humphreys Backstage Live
Music & Pop Culture Trivia Night @ House of Blues
Taylor Mosley @ Flying Elep[hant Pub & Grill
Gilbert Castellanos, with the New Latin Jazz Quintet @ El Camino
Wednesday Shakedown @ Henry's Pub
Darkwave Garden @ Club Kadan
Lady Dottie & the Diamonds @ Gallagher's Irish Pub
Jimmy Lewis @ Tiki House
Jaya Lakshmi, Ananda, Michael Divinity Mannino @ Kava Lounge
Firehouse Swing Night @ Queen Bee's
Fuzzy @ Croce's
David Patrone @ Marble Room
Stoney B. Blues @ Patrick's Gaslamp Pub
Now.Here.This! @ Whistle Stop
Ron's Trio @ McP's Irish Pub
Ben Powell @ Davina's Cabo Grill
Rosemary Bystrak writes about the San Diego music scene, events and general musings about life in San Diego on San Diego: Dialed In. Follow her updates on Twitter or contact her directly.