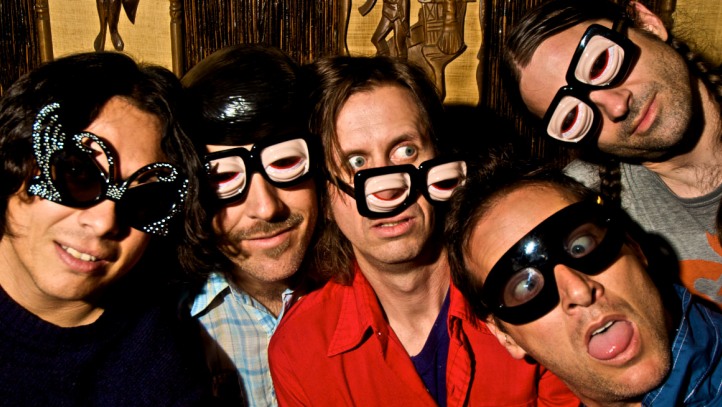 There are few musicians in San Diego that represent the legacy of rock and roll more than John Reis. The man also known as "Swami" has been involved in many projects throughout the years, including Drive Like Jehu and Rocket From the Crypt. So it was no surprise that, when his band Hot Snakes announced some local reunion shows, they sold out quite quickly. Tuesday night's Casbah tickets are highly coveted and you might have a hard time finding any for sale, but for the 250 fans that will be present, it's sure to be one of those shows that stays in local lore for a while to come. If you don't have tickets, fret not, there are other shows that might tickle your Tuesday, including Gold Fields at the Soda Bar, Tyga bringing some hip-hop to House of Blues, and the Knux performing at the Griffin.
Tuesday, March 27:
Hot Snakes, Mrs. Magician, Spider Fever @ Casbah (sold out)
Casbah presents Gold Fields, guests @ Soda Bar
Casbah presents Tyga, YG @ House of Blues
The Knux, the Legacy Pack, the Vibrant Sound @ The Griffin
Lee Coulter, Michael Tiernan, Gayle Skidmore @ Belly Up
Live Sketch Night with Double Break @ Tin Can
Local Brews Local Grooves featuring Some Guy, Lindsey Hail, Lyndon Pugeda, the Peripherals, Melly Frances & the Distilled Spirits @ House of Blues Voodoo Stage
Anthology House Band @ Anthology
Tiki Tuesday featuring Mr. Craig Prior @ Bar Pink
Westside Inflection @ Riviera Supper Club (7 p.m.)
Darkwave Garden @ Club Kadan
Tori Rose presents Ruby Tuesday with Crunk Witch, Erin & the Project @ Ruby Room
Michele Lundeen @ Humphreys Backstage Live
Train of Thought @ Queen Bee's
Comedy Night @ Lestat's
Matt Commerce @ Davina's Cabo Grill
Skerik's Bandalabra @ Winston's
Trent Hancock @ Tiki House
Tomcat Courtney @ La Gran Tapa
Open Mike with Walter Gentry @ Patrick's Gaslamp Pub
Gio Trio + 1 @ Croce's
Comedy Night @ Til-Two Club
Tommy Price & The Stilettos @ Henry's Pub
Doug Allen @ The Kraken
Karaoke @ Kensington Club
Friends Chill @ Whistle Stop
Rick Remender @ McP's Irish Pub
Rosemary Bystrak writes about the San Diego music scene, events and general musings about life in San Diego on San Diego: Dialed In. Follow her updates on Twitter or contact her directly.