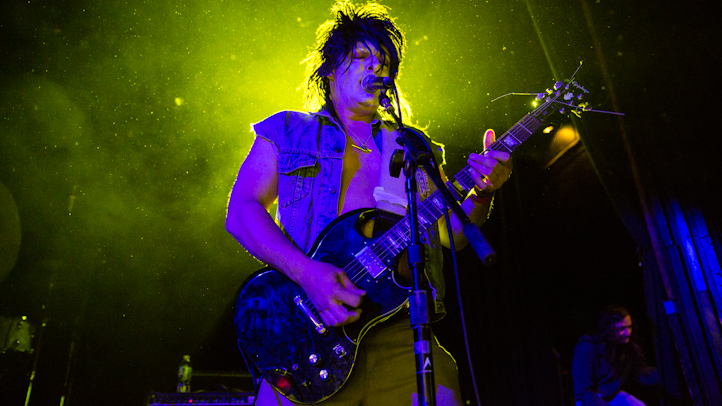 Wednesday offers some brilliant shows around San Diego so I'd suggest you take a disco nap after work so you can enjoy the nightlife. The Casbah welcomes the Bright Light Social Hour and Citizens! which should bring out some good times, while Merchandise headline at Soda Bar. If you haven't had the chance to see Ditches yet, they're opening the show and definitely warrant your early arrival. A weeknight punk rock show takes over Til-Two Club, and while the Creepy Creeps had to pull out, the Spits will definitely keep the fists in the air and the PBR splashing among the crowd. One special show of note is over at Lestat's. If you've ever been to the Normal Heights cafe, you've certainly seen Louis Brazier running the show with his faithful mutt Toby following him around. The canine is aging, so on Wednesday there will be guests performing to help raise funds to buy Toby a doggie-wheelchair for his hind legs. Toby has probably supported more singer/songwriters than anybody in this city, so show him some puppy love and support his handi-capable cause.
Wednesday, March 20:
The Bright Light Social Hour, Citizens!, Grayshot, Lovelife @ Casbah
Merchandise, Wet Hair, Ditches, DJ Art Vandelay @ Soda Bar
The Spits, Useless Eaters, the Lumps @ Til-Two Club
Andrew McMahon, Barcelona, Erland Wanberg @ House of Blues
Ducktails, Mark McGuire @ The Void
The Mice, Cutaways, Nightmare Boyzzz, Last Years @ The Tower Bar
Pimps of Joytime: Quit Sleep presents Vokab Company @ Belly Up
Electric Healing Sound, the Ballantynes, Posole @ Tin Can
Mor ve otesi, Twenty7, Hargo @ The Griffin
Toby the Dog Wheel Fundraiser @ Lestat's
Miracles of Modern Science @ The Loft
SD Music TV Open Mic @ Brick By Brick
Black Beast Revival, Midnight Spin, Sandbox @ The Shakedown Bar
Kice Simko and Friends @ Riviera Supper Club
RIPS Entertainment presents Cheers Elephant, the Fixtures, Adultfiction @ Ruby Room
N8tron Music @ Kava Lounge
Gilbert Castellanos Jazz Jam @ Seven Grand
Sunset Trivia presents Movies, Music & More @ House of Blues
Sweet Cheeks @ El Dorado
Noisey Toys @ Humphreys Backstage Live
Fuzzy @ Croce's
Club Kingston w/ Simmer Down, Riddim Section, DJ Carlos Culture @ Winston's
Club M.A.W. @ Henry's Pub
Lady Dottie & The Diamonds @ Gallagher's Irish Pub
Firehouse Swing Night @ Queen Bee's
The Void @ The Office
Now Hear This @ Whistle Stop
Smokestaxx @ Coyote Bar & Grill
Ron's Trio @ McP's Irish Pub
Open Mic @ 710 Beach Club
Rosemary Bystrak writes about the San Diego music scene, events and general musings about life in San Diego on San Diego: Dialed In. Follow her updates on Twitter or contact her directly.