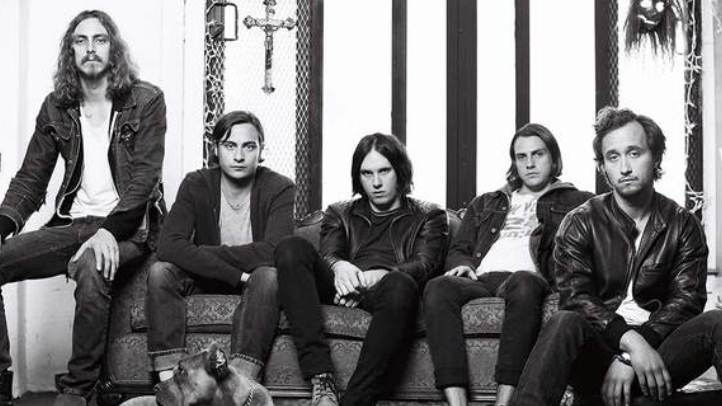 This week, why not make your Tuesday a bit more gritty than usual? The Parlor Mob are in town from Asbury Park, N.J., and though they claim no scene or genre, their dirty rock sounds are definitely an ode to the place where they were all raised. Like many bands, they had visions of reaching the masses and were signed to Capitol, only to be dropped during label mergers and consolidation. You've heard this story before, but the Parlor Mob have dusted themselves off and, after releasing their second album, Dogs, in late 2011, the band is more unified than ever. Check them out tonight at the Griffin.
Tuesday March 13:
The Parlor Mob, Hollywood Kills @ The Griffin
The Paragraphs, Heavy Glow, Trouble in the Wind @ Belly Up
Bangladesh, Ape Machine, Warring States of Mind @ Soda Bar
The Pettybreakers, Socially Distorted, Wicked Gardens, Blasphemous Guitars @ Casbah
Drea Marilyn, Gypsy/Wolfe, Planewreck, Lia @ Tin Can
Julia Massey & the Five Finger Discount, Jesus Rehab, 2 Bit Radio @ Brick By Brick
Local Brews Local Grooves featuring Roxy King, Lyndon Pugeda Slicks, Chris Carpenter, LoveMason, Soul Ablaxe @ House of Blues Voodoo Stage
Bela Fleck & the Flecktones @ Anthology 7:30 p.m. (sold out) & 9:30 p.m.
Tiki Tuesday with Old Man Johnson @ Bar Pink
Westside Inflection @ Riviera Supper Club 7 p.m.
Darkwave Garden @ Club Kadan
Tori Roze presents Ruby Tuesday with Charbra, Jared + Israel + Don L., Saba @ Ruby Room
Charles Burton @ Humphreys Backstage Live
Train of Thought @ Queen Bee's
Comedy Night @ Lestat's
The True Spokes, Current Swell @ Winston's
Trent Hancock @ Tiki House
Tomcat Courtney @ La Gran Tapa
Open Mike with Walter Gentry @ Patrick's Gaslamp Pub
Comedy Night @ Til-Two Club
Tommy Price & The Stilettos @ Henry's Pub
Doug Allen @ The Kraken
Karaoke @ Kensington Club
Missy Andersen @ Jimmy Love's
Friends Chill @ Whistle Stop
Valerie Pierce, Smokestaxx @ Jimmy Love's
Gene Warren @ McP's Irish Pub
Gio Trio + 1 @ Croce's
Rosemary Bystrak writes about the San Diego music scene, events and general musings about life in San Diego on San Diego: Dialed In. Follow her updates on Twitter or contact her directly.